K9 crackdown: Chinese city bans 40 breeds in stringent new 'one-dog policy'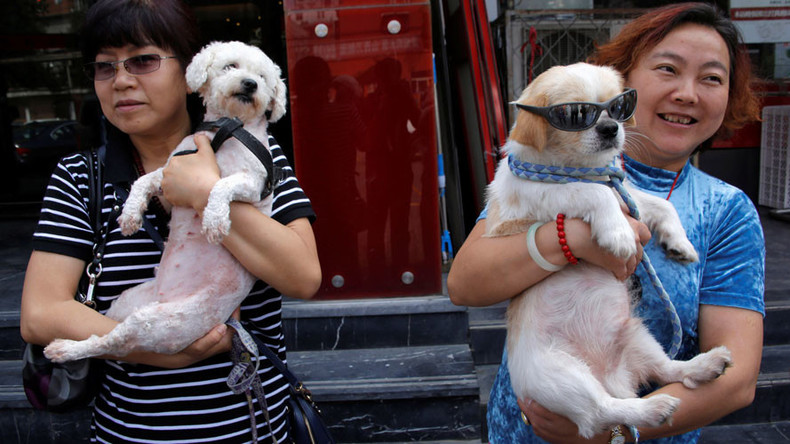 Less than two years after China announced the relaxing of its one-child policy, a city in the eastern Shandong province has introduced a 'one-dog policy' requiring pooches wear identity cards.
Residents of the city of Qingdao will now be limited to only one dog per household, with maximum fines of 2,000 yuan ($60) for breaches of the new rules, according to local media reports. The city began implementing the new regulations Thursday.
The move also bans more than 40 dog breeds, including pit bulls, Doberman pinschers, and Tibetan mastiffs.
Dogs must also be vaccinated and registered, and must also wear electronic identity devices. The devices are similar to identity cards and will contain information such as the dog's age, color, and the owner's contact information.
The rules also state that dogs should be kept on a leash at all times and owners must immediately clean up their excrement.
READ MORE: Thousands of dogs, cats slaughtered during annual Chinese festival (VIDEO)
"More and more residents have dogs, but that has caused incidents of dogs disturbing or even injuring people," Qingdao's local public security bureau told The Beijing News. "It's based on the approach taken by other cities."
China's capital Beijing has had a similar policy in place since 2006 while Shanghai introduced a law in 2011.
People who already have more than one registered dog which has been properly immunized will not be affected by the new restrictions. Guide dogs for blind people are also exempt.
Estimates from 2015 indicate that there are around 100 million registered pets in China, with dogs accounting for nearly two thirds of them.
You can share this story on social media: