AI machine can spot autism in babies as young as 6 months – study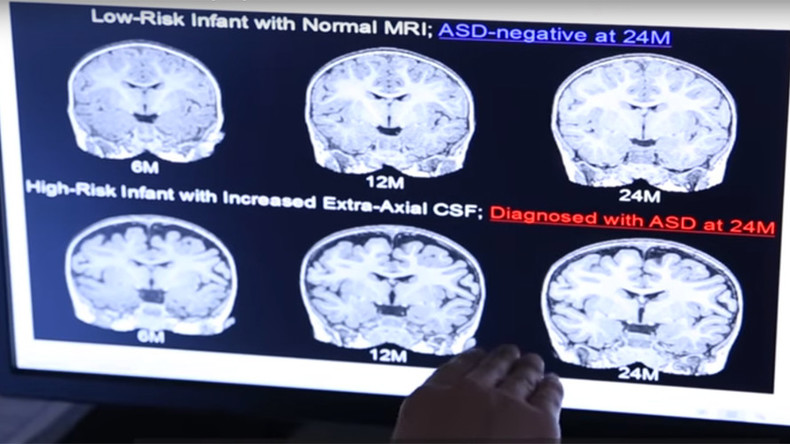 A brain-mapping AI could soon be used to identify infants most at risk of developing autism, before the symptoms even appear.
New research published in the journal Science Translational Medicine found that "autism imaging," a scan that can pinpoint signs of the condition in the brain, may one day lead to diagnoses in children as young as six months.
"The more we understand about the brain before symptoms appear, the better prepared we will be to help children and their families,"said senior author Joseph Piven, Professor of Psychiatry at the University of North Carolina School of Medicine.
During the study, sleeping babies were placed in an MRI machine where their neural activity was monitored across more than 200 regions of the brain. Researchers then used the MRI data to map brain pathways thought to facilitate core skills and behaviors autism is known to affect – namely language, repetitive actions and social behavior.
Using this map, Piven and his team created an AI capable of narrowing down the neural connections central to the development of autism in children between six months and age 2.
The machine's findings were then applied to some 59 'baby sibs,' infants with a one-in-five chance of developing autism by virtue of having an older sibling with the condition. The AI, the team said, predicted autism in 81 percent of the children tested.
UNC postdoctoral fellow Robert Emerson, who was also involved in the study, said, "When the classifier determined a child had autism, it was always right. But it missed two children. They developed autism but the computer program did not predict it correctly, according to the data we obtained at six months of age."
Emerson added, "No one has done this kind of study in six-month olds before, and so it needs to be replicated. We hope to conduct a larger study soon with different study participants."
The Centers for Disease Control and Prevention estimates that about one in 68 children are affected by autism – which is more than four times more common among boys. The causes of autism, however, are not yet fully understood.
The research follows a previous UNC-led study, published in the journal Nature in February, which used MRIs to predict babies that would develop autism based on differences in their brain anatomy.
"The Nature paper focused on measuring anatomy at two time points [six and 12 months], but this new paper focused on how brain regions are synchronized with each other at one time point to predict at an even younger age which babies would develop autism as toddlers," said Piven.
Earlier this month, research from the San Diego School of Medicine revealed that suramin, a drug originally developed to treat sleeping sickness in sub-Saharan Africa in 1916, could be used to alleviate the symptoms of autism in children between the ages of five and 14.