'You can't make my f***ing McChicken': Crazy fast food brawl erupts over burger (VIDEO)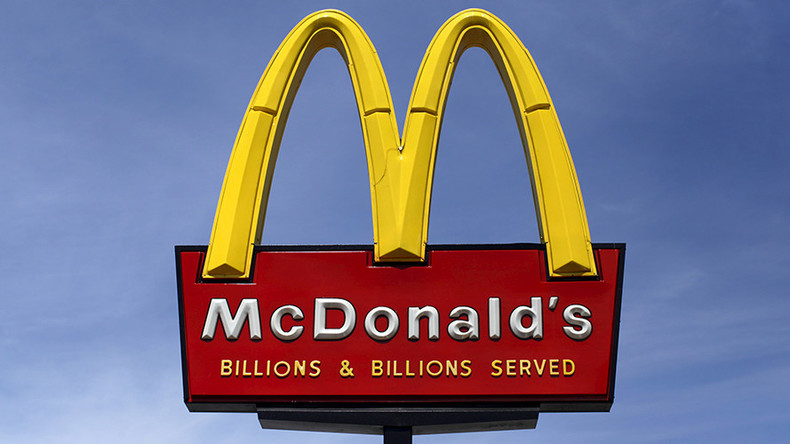 A vicious Iowa fast food fight, during which an irate customer launched herself over a McDonald's counter to attack staff, was started over a chicken burger.
Police in the city of Des Moines are seeking to identify the individuals involved in a brawl at a McDonald's restaurant at Euclid Avenue around 9pm Saturday.
Cellphone footage of the incident was posted to Facebook by an eyewitness, who captured the moment an angry customer lost her temper and climbed over the counter to confront McDonald's staff.
READ MORE: Fight or flight? Southwest Airlines punch-up caught on camera (VIDEO)
Filmed by Amanda Gravely, the video shows a blonde female arguing with staff about the speed of her order. "Give me my meal or give me my money. You can't make my f***ing McChicken? Then give me my money," the customer shouts.
The woman and a male companion then appear to remonstrate with the restaurant's manager before the situation turns violent.
Angry about the wait for her chicken burger, the female customer climbs onto the counter, aiming kicks and slaps at the staff member, who then drags the woman from the counter by the hair and the pair begin to grapple close to the kitchen area.
Amid the brawl, a man can be heard encouraging the blonde woman by telling her to "grab" the fast food employee's hair.
READ MORE: Mass drunken brawl on British train sparked by bagel (VIDEO)
Eyewitness Amanda Gravely said she was taking her children for ice-cream when the fight broke out. She described those involved as "crazy people."
According to KCCI Des Moines, local police have appealed for people with information about the incident to contact them.