Video of unfazed supermarket staff & customers at gunpoint in Russia goes viral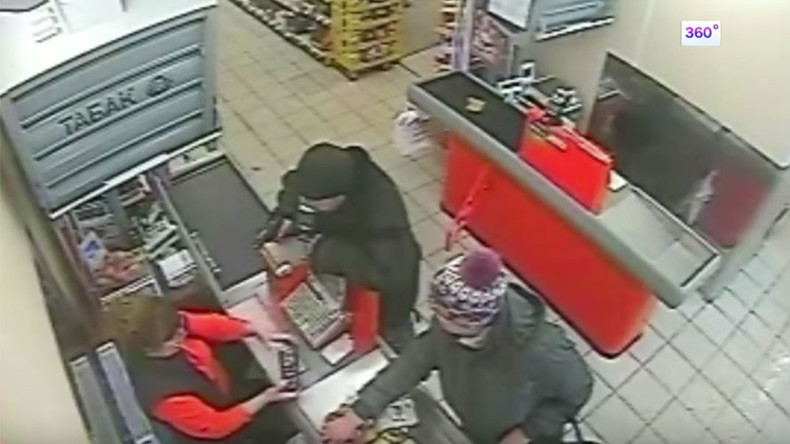 Footage of a failed robbery attempt at a Russian supermarket shows a cashier nonchalantly scanning groceries while being held at gunpoint, before the perpetrator leaves the store empty-handed like a guilty schoolboy.
In the CCTV video from a grocery store in Moscow Region, the female cashier is seen serving a customer when an unmasked man, wearing a black coat and a hat, enters the shop and heads directly to the cash register. He then produces a gun and points it right at the cashier's head.
However, contrary to all expectations, no drama follows. Demonstrating tranquility worthy of a Buddhist monk, the woman continues to serve her customer, who also appears to be totally unmoved by the armed perpetrator.
The only person who seems concerned is a man who is seen entering the shop and retreating as soon as he notices the gun.
Help arrives in the form of a female store manager, who enters the frame in a business-like manner, takes the wannabe robber by the arm and sends him on his way without a fuss.
Read more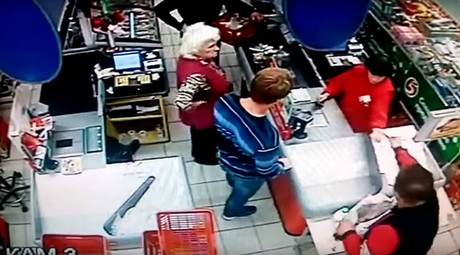 The whole scene takes less than one minute to unfold.
Although originally made public in February, the video has reemerged this week, generating nearly 700,000 views in a couple of days.
READ MORE: CCTV catches Russian 'Peeping Tom' snapping upskirt pics (VIDEO)
Police have since interviewed both the cashier and the perpetrator, broadcast by Russian 360 TV. The unlucky robber turned out to be a homeless man, who said he "went to the store to ask the cashier for 100 rubles" (less than $2), which he needed to buy alcohol for his girlfriend. To be more convincing, he used a gun, which turned out to be a toy pistol.
The cashier claimed that at the time, she did not know whether the gun was fake or real. Police also said the failed attacker had a criminal record, and had been convicted of robbery before.