'Biggest breakthrough in a decade': New ovarian cancer drug proves hugely promising
Published time: 3 Jun, 2017 18:14
Edited time: 4 Jul, 2017 06:42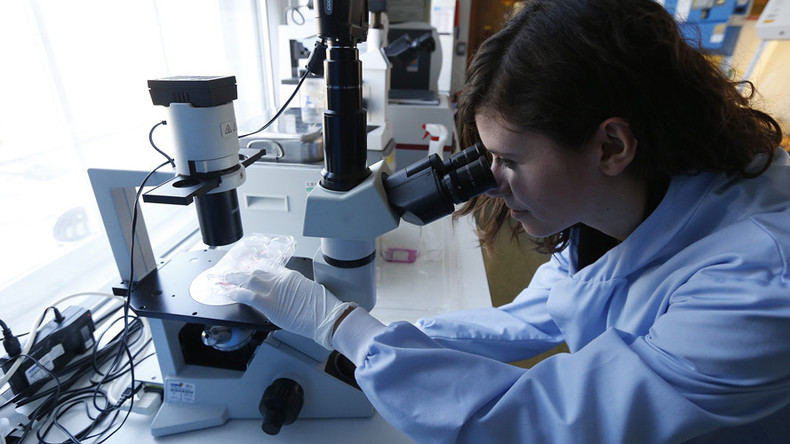 A new drug has been hailed as the biggest breakthrough in a decade for women living with untreatable ovarian cancer after trials led to significant shrinkage in tumors.
Researchers from London's Institute of Cancer Research (ICR) and The Royal Marsden NHS Foundation Trust tested the drug, which targets ovarian cancer by mimicking the action of folic acid to enter the cells, said the results are 'very promising,' with tumors shrinking in half of the women tested.
The results were presented Saturday at the annual meeting of the American Society of Clinical Oncology (ASCO) in Chicago.
Only one in three women with ovarian cancer will survive for more than ten years. The disease kills an estimated 4,000 women a year in the UK alone.
Some 15 women were administered the drug in this initial trial, with seven showing significant shrinkage in tumors. For those who had the particular molecular target for the drug, the results were even better with seven out of ten responding well.
The drug, known as ONX-0801, is the first of its kind in a brand new class. It kills cancer cells by blocking a molecule called thymidylate synthase, causing irreparable DNA damage to the tumor.
The trial also found that because ONX-0801 targets cancer cells specifically, while leaving healthy cells alone, patients did not experience common side effects such as infections, diarrhoea, nerve damage and hair loss associated with traditional treatments such as chemotherapy.
"The results we have seen in this trial are very promising. It is rare to see such clear evidence of reproducible responses in these early stages of drug development," study leader Dr Udai Banerji, Deputy Director of the Drug Development Unit at the ICR and The Royal Marsden said.
"The beauty of this particular drug is that it is targeted to the cancer cell. This means there are fewer side-effects, making it a kinder treatment for ovarian cancer patients," she added.
The team are now hoping to secure funding for clinical trials as soon as possible to study can have benefits for other ovarian cancer patients and those with other types of cancer.