'Are you on Twitter?' Megyn Kelly asks world's 2nd-most followed leader Modi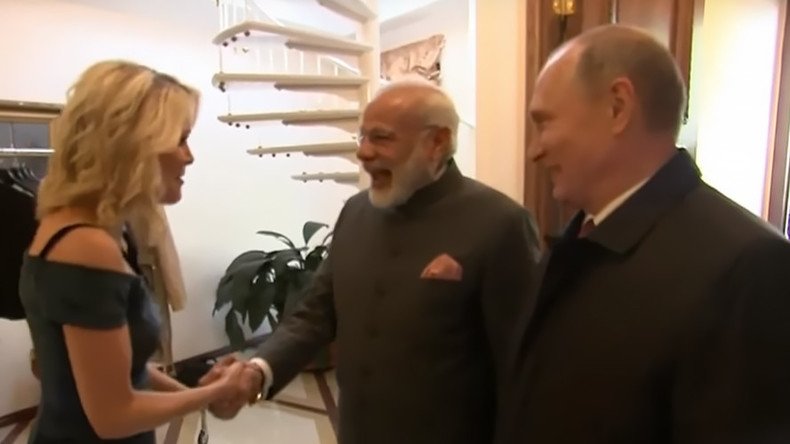 NBC's Megyn Kelly's St. Petersburg chat with Indian PM Narendra Modi has drawn a barrage of online mockery after the reporter asked Modi if he was on Twitter. Modi's 30 million online followers did their best to not let the gaffe slip.
The brief interaction between Kelly, Modi, and Russian President Vladimir Putin took place on Friday ahead of a plenary session at the St. Petersburg International Economic Forum (SPIEF). Aired by NBC as a teaser to the debut episode of Kelly's new show, it did attract attention – but for all the wrong reasons, with the Twitterati blasting the journalist for failing to do her homework on the Indian leader.
It all started after Modi, a long-time Twitter user with over 15,000 posts and 30.3 million followers, told Kelly that he saw a tweet that she posted with a photo of her standing with an umbrella in a St. Petersburg street. Kelly, seemingly in disbelief, replied: "Oh really, did you? Are you on Twitter?"
The gaffe did not go unnoticed by Modi's enormous Twitter fan-base, which mercilessly picked the host apart, calling her "terribly unprepared" and "unprofessional."
Some were quick to point out that among world leaders, Modi trails only US President Donald Trump in number of followers, while the NBC anchor boasts "only" 2.32 million, which pales in comparison to Modi's social media outreach.
Modi is also an active Facebook user. With over 40 million followers on Facebook, he recently topped the list of most popular leaders on the platform.
Others reacted in a more light-hearted way about the incident.
The misstep could, however, actually bring her rewards, some suggested.
You can share this story on social media: