Little sympathy for comedian Kathy Griffin, fired over 'decapitated Trump' photoshoot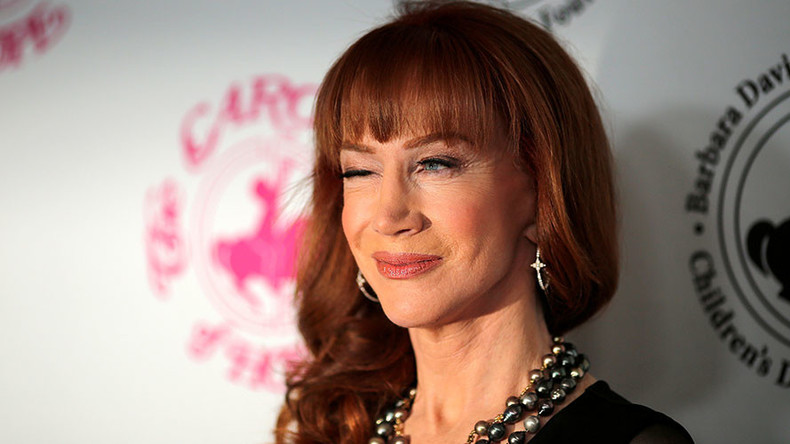 Comedian Kathy Griffin has been dropped by sponsors and fired by CNN after posing in an ill-judged photoshoot with a fake bloody head of US President Donald Trump.
The backlash to the now infamous photo came almost as soon as it was posted Tuesday. "Kathy Griffin" began trending on Twitter worldwide and she achieved the rare feat of angering both conservatives and liberals at the same time.
The 56-year-old posted a video apology on Twitter that evening, but it had little effect as the spiral of negative backlash continued.
President Trump himself responded to the photo Wednesday morning, describing it as "sick" and saying it upset his 11-year-old son Barron.
Pressure then turned on Griffin's sponsors and employers to disassociate themselves from the comedian. CNN social media accounts were flooded with numerous people calling on the network to fire Griffin from her gig co-hosting the New Year's Eve broadcast from Times Square.
Leading CNN journalist Anderson Cooper said he was "appalled" by the photo, while news anchor Jake Tapper labelled it "disgusting."
The president's son, Donald Trump, Jr, posted several tweets urging the network to cut ties with Griffin.
CNN responded to the furor later Wednesday by announcing that Griffin had been dropped as a co-host from its New Year's Eve program.
Griffin was also dropped as the official spokeswoman for Squatty Potty. The company, who make toilet accessories, have also removed an ad campaign featuring Griffin from their website.
"We were shocked and disappointed to learn about the image Ms. Griffin shared today. It was deeply inappropriate and runs contrary to the core values our company stands for," Squatty Potty CEO Bobby Edwards said in a statement to Adweek.
The entire saga has prompted a wave of reaction on social media, with almost none of it sympathetic to Griffin. Former Republican Presidential candidate Mike Huckabee even joked that Satan had distanced himself from the embattled comedian.
However, some just thought that the whole furor had run its course and it was time for everyone to move on.
You can share this story on social media: