'WikiSpeaks': Assange teases weekly radio show, asks for name suggestions (POLL)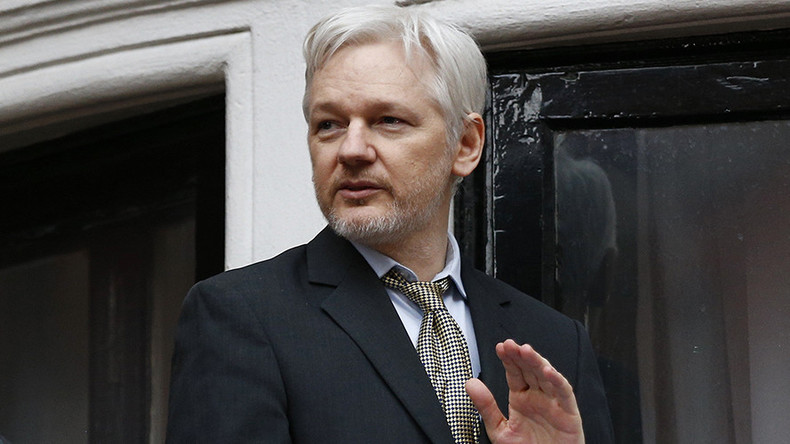 WikiLeaks founder Julian Assange has hinted that he may start a weekly radio show from the Ecuadorean Embassy in London.
Assange dropped the hint on Twitter, saying the idea had been suggested by "several US networks."
Several US networks suggest I start a weekly radio broadcast/podcast from within the embassy siege. A good idea? Ideas for format, title?

— Julian Assange (@JulianAssange) May 30, 2017
Assange reached out to his followers looking for name and format suggestions for the potential project. He received numerous responses, including 'Transparency Now!', 'WikiSpeaks', 'Weekly Leaks', 'Doctor Spill' and 'Julian Assange's Insufferable Podcast'.
One suggestion called on Assange do a cooking show called 'Julienned with Julian Assange.'
Dear Mr. Assange ,

What was the title of Sir Winston Churchill's broadcasts from his bunker during World War II ... ?

"Never Give In..." pic.twitter.com/eDauea5U2s

— Packson Atlantic LLC (@PacksonAtlantic) May 30, 2017
While not everyone was in favor of the proposed show, Conservative American TV and radio host Sean Hannity described the show as a "great idea" and even offered to allow Assange take over his job for a day. "If you would like to fill in for me one day I am on over 550 stations and 14 plus million listeners," he tweeted.
Replying to Hannity's offer, Assange responded: "Great! Now if only MSNBC et al had the same courage to have people host they don't always agree with!"
He also told CNN that he's "looking into" ways of guest hosting the show.
What do you think the podcast should be called? Let us know your thoughts in the poll below.