Rampaging elephant chases down tourists in Indian national park (VIDEO)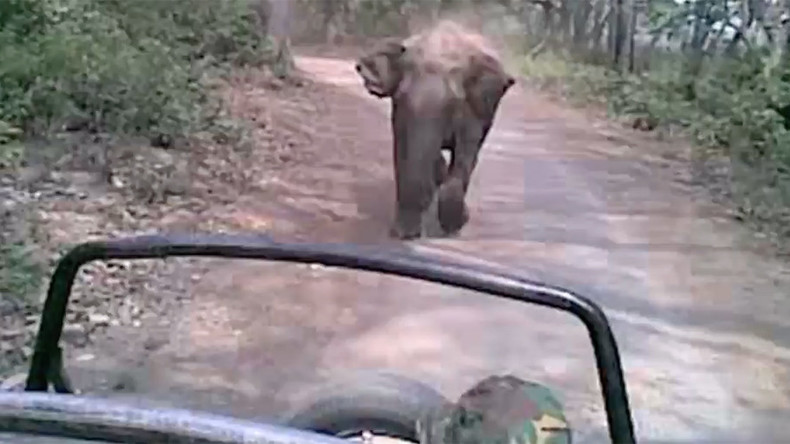 A safari in India's oldest national park almost ended in disaster after a rampaging elephant chased down a jeep carrying a group of tourists.
Video of the visitors fleeing for their lives has gone viral after their jeep happened across a herd of elephants in Jim Corbett National Park in the northern state of Uttarakhand.
Footage of the incident shows the vehicle encountering a family of three elephants crossing a path in the wildlife sanctuary. When the two smaller elephant calves are safely across the road, the larger animal turns and chases after the jeep, forcing the humans to race away at high speed.
READ MORE: Professional hunter crushed to death by falling elephant
The protective elephant shows surprising speed, coming within a few feet of the SUV.
The national park's deputy director Amit Verma told the Hindustan Times that while these encounters aren't entirely unusual, the park's drivers are trained to handle them.
"We expect the tourists and the guides to not put themselves in situations of danger and stay away from wild animals if they are spotted on the pathways," Verma said.
The encounter took place in the Dhikala Zone of the national park which Jim Corbett's website says is "highly recommended for the hard core wildlife enthusiasts."
The footage is understood to have been shot Thursday. It came to wider attention Saturday after being tweeted by Indian news agency ANI.