Ben & Jerry's bans same scoop flavors until Australia legalizes same-sex marriage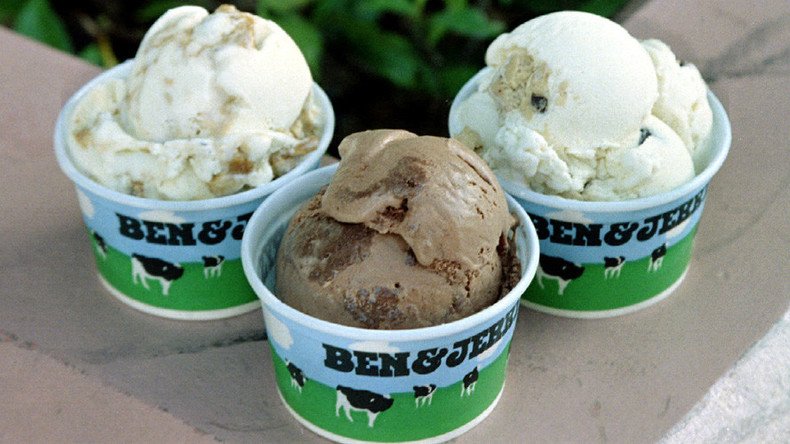 Ben & Jerry's ice-cream really wants same-sex marriage legalized in Australia so it did what any company would do – ban customers from ordering two scoops of the same flavor.
The duo behind the brand have often used their product to support political and social causes, but this is the first time they've gone so far as to deprive people of their preferred scoop combination.
"We are banning two scoops of the same flavor and encouraging our fans to contact their MPs to tell them that the time has come – make same sex marriage legal! Love comes in all flavours!" the company announced on its website.
From now on, none of the 26 Australian Ben & Jerry's stores across the country will serve anyone two of the same flavors.
"Imagine heading down to your local Scoop Shop to order your favourite two scoops of Cookie Dough in a waffle cone," Ben & Jerry's said. "But you find out you are not allowed...You'd be furious!"
"But this doesn't even begin to compare to how furious you would be if you were told you were not allowed to marry the person you love."
Ben & Jerry's has set up post boxes in their stores to allow customers to send postcards to local MPs expressing their support for marriage equality.
According to the Australian Marriage Equality group, 72 percent of the Australian population supports marriage equality, with support stretching across demographics. However, the government has not yet responded to the desire to legalize gay marriage with a parliament vote.
While Ben & Jerry's has received support for its campaign, others are annoyed that their preferred ice-cream combo is being held hostage.
Ben & Jerry's has advocated for marriage equality many times before: In the UK, in 2012, they renamed one of their flavors 'Apple-y Ever After' and featured a picture of two grooms.
In Germany, the company is one of 60 that forms the Ehe Fur Alle movement that supports gay marriage. It renamed its world-famous cookie dough flavor 'Yes I Dough'. In the summer of 2015, after gay marriage was legalized across the US, Ben & Jerry's temporarily renamed the Chocolate Chip Cookie Dough flavor as 'I Dough, I Dough.'
You can share this story on social media: