Latest country joins space race with '3D printed' test rocket (VIDEOS)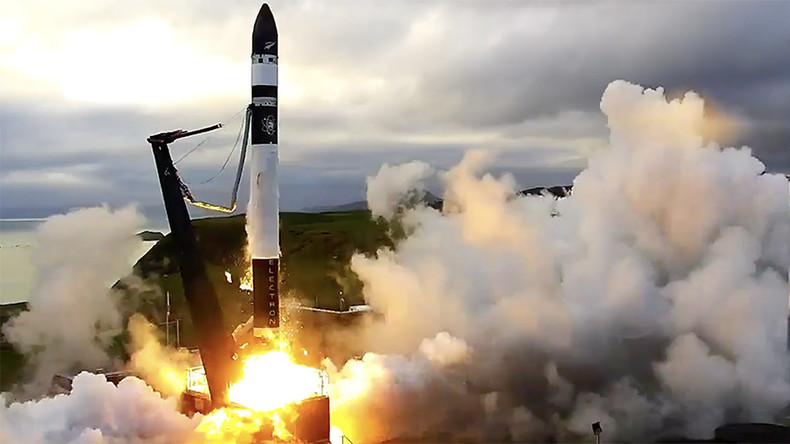 New Zealand is the 11th country to blast into space, after Rocket Lab's successful Electron test launch. It marks the world's first orbital-class rocket to launch from a private site.
Donned in a silver fern for New Zealand and a US flag, the rocket's maiden voyage was delayed for three days due to bad weather. On Thursday, however, it launched from the Mahia Peninsula base in Hawke's Bay and reached outer space within three minutes.
Rocket Lab, an American-New Zealand company, will investigate why the Electron rocket failed to reach orbit, however.
"Reaching space in our first test puts us in an incredibly strong position to accelerate the commercial phase of our program, deliver our customers to orbit and make space open for business," said Rocket Lab Founder and Chief Executive Peter Beck, adding they had learned so much from the launch.
"We're one of a few companies to ever develop a rocket from scratch and we did it in under four years," Beck said. "To get as far as we did on the first test flight doesn't often happen."
The 17-meter tall (56ft) Electron rocket is made of carbon-composite, which is low mass and strong. It boasts the first engine of its kind to use 3D printing for all primary components. This makes the rocket lighter and reduces production costs.
Rocket Lab has planned another two test launches before its first commercial launch. The company is allowed to launch 100 rockets into space per year from New Zealand.
The rocket will carry items, such as satellites into a low orbit. The small satellites will be used to monitor environment, assist in search and rescue operations and provide cheaper internet.
"We're committed to making space accessible and this is a phenomenal milestone in that journey," Beck said. "It's been an incredible day and I'm immensely proud of our talented team."
The company was founded in New Zealand in 2006 and receives funding from US companies, including Lockheed Martin, Promus Ventures, Khosla Ventures and Data Collective.