Discovery of huge Viking camp reveals secrets of Norse armies in medieval England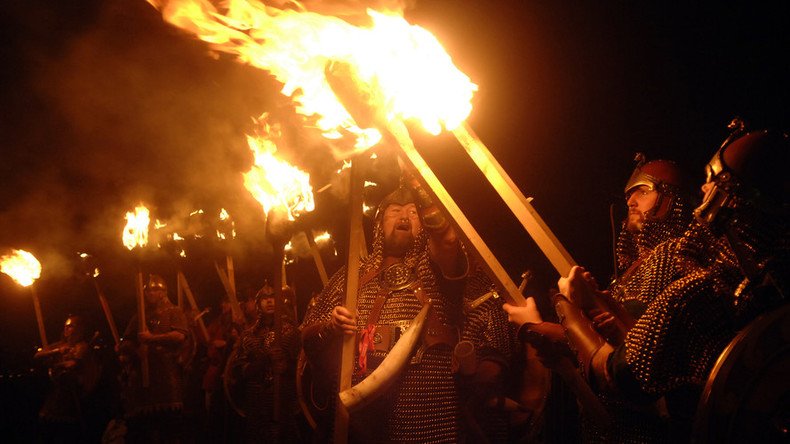 Archaeologists have uncovered an enormous Viking encampment in eastern England, a discovery that reveals much about the Norse armies that invaded Britain in the 9th century.
The new study by the universities of York and Sheffield shows that the Torksey camp on the River Trent in Lincolnshire was larger than most contemporary towns. Home to thousands of Viking warriors and their families, a force much larger than previously believed, the Norsemen are thought to have wintered in the area before launching a larger invasion.
READ MORE: Ancient Viking warrior blade unearthed by Icelandic goose hunters (PHOTOS)
"The Vikings had previously often raided exposed coastal monasteries and returned to Scandinavia in winter, but in the later 9th century they came in larger numbers, and decided to stay," Professor Julian Richards from the University of York said.
"This sent a very clear message that they now planned not only to loot and raid – but to control and conquer."
Scientists had known of the Torksey camp for years, although its size and exact location has been a source of much debate.
Now, the study reveals that the camp lay within a naturally defended area of higher ground, partially surrounded by marshes and bordered on its western side by the River Trent.
Using metal detectors, the researchers found evidence of Vikings repairing their boats and melting down looted gold and silver to make metal bars to trade. More than 300 lead game pieces were also found, suggesting the Vikings passed a lot of their time playing games, waiting for spring and the start of their next offensive.
The discovery forms the basis of a new virtual reality exhibition at Yorkshire Museum illustrating what life was like in the camp in the winter of 872-873 AD.
Professor Dawn Hadley, who led the research, said: "The Vikings' camp at Torksey was much more than just a handful of hardy warriors – this was a huge base, larger than most contemporary towns, complete with traders, families, feasting, and entertainment."
The study says that the Torksey evidence allows for a radical reappraisal of the character of Viking winter camps, and the legacy of the Vikings in Anglo-Saxon England.
You can share this story on social media: