Painting of skull breaks world record, auctioned for $110.5m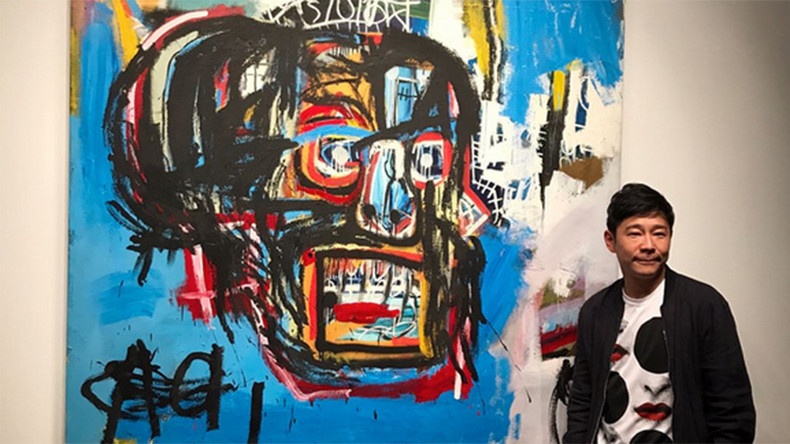 An untitled painting by Brooklyn artist Jean-Michel Basquiat has sold for a record-breaking $110.5 million at an auction in New York. The price tag is the heftiest ever paid for a piece by a black artist and the first since 1980 to break $100 million.
The record-breaking painting, described by Sotheby's as a "searing, talismanic rendering of a skull," was done in oil stick, acrylic and spray paint.
The untitled work has also become the most expensive by any US artist.
The abstract work was bought by Yusaku Maezawa, a fashion entrepreneur and one of Japan's richest people, with an estimated fortune of $3.6 billion. In 2016, he spent $98 million on several pieces over a two-day period, including $57.3 million on another Basquiat work, a painting of a horned devil.
"I am happy to announce that I just won this masterpiece," Maezawa said. "When I first encountered this painting, I was struck with so much excitement and gratitude for my love of art. I want to share that experience with as many people as possible."
True to his word, the 41 year old intends to loan his latest artwork to museums around the world, before eventually giving it permanent residence in a museum he plans to establish in his hometown of Chiba.
Bidding at the iconic Sotheby's auction house lasted 10 mins, with Maezawa winning it over the phone.
"Breaking $100m for a work which is that recent is definitely extraordinary," said Gregoire Billault, head of contemporary art at Sotheby's. "I think it just speaks about the talent of this guy. It's just pure emotion. He's bringing something never seen before."
The enigmatic Basquiat died of a heroin overdose in 1988, aged just 27. He began his seven-year career as a graffiti artist before his untimely death.