Latvian skydiver performs 1st ever drone jump (VIDEO)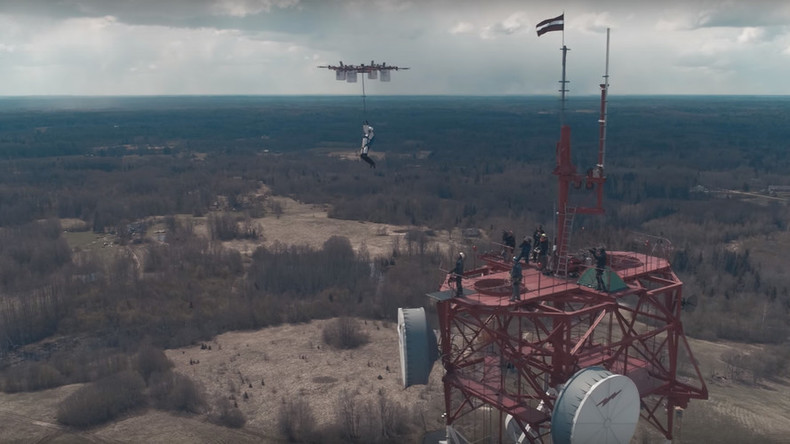 A Latvian daredevil team says they have conducted the first ever parachute jump using a drone, shown in breathtaking new footage.
The unmanned aircraft, made by Aerones, is equipped with 28 propellers and is capable of lifting up to 200kg.
In a video released on Friday, Latvian daredevil Ingus Augstkalns used it to lift off from a communications tower to a height of 330 meters, from which he performed the jump.
"It was so much fun – like being in a playground in childhood," Augstkalns told AFP.
"Of course there were still risks in doing it the first time.
"Being lifted the first five meters was probably the most nervous moment, but the drone lifted me... and two seconds later I was under the [parachute] canopy."
Janis Putrams, the CEO of Aerones, piloted the drone.
"Today we did the first drone jump, a completely new way of base jumping. It makes it possible to base jump from any place – in cities, in desert, in mountains," he told AFP.
Apart from extreme sports, the company hopes their drones will have other, more practical uses, such as rescue operations in environments that may be too difficult or dangerous for humans.
"We're aiming at using it for human rescue, so today was a good test," Putrams added.
The drone, which cost €35,000 ($53,600) to build, has a flight time of around 10 minutes and can reach speeds of up to 150km per hour.
You can share this story on social media: