Fox News host speaks Russian on air in outburst to 'potential Russian overlords'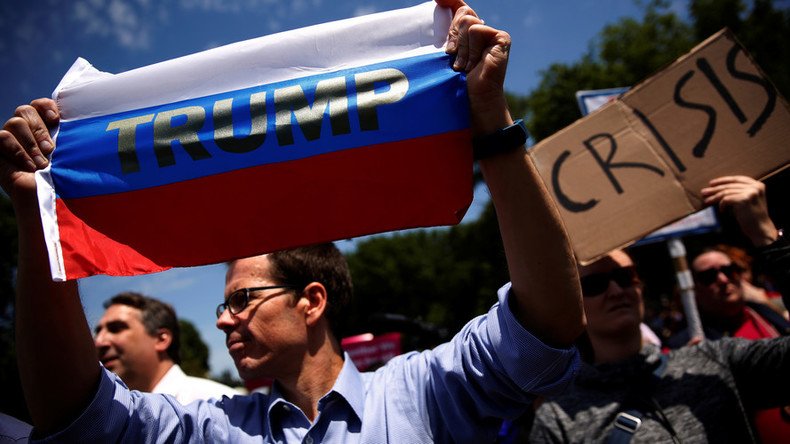 In an apparent episode of what the Kremlin called "Russian obsession," an American TV host and Democratic Party strategist, Julie Roginsky, has addressed her audience in Russian in an outburst against what she called "a hostile foreign power."
Roginsky opened her show in Russian, saying – and now we have to translate it back in English – "Welcome to our ClapBack show with Julie Roginsky, where we protect Twitter from all the people who send us horrible, horrible things every day."
She carried on in English, apparently explaining that reactions to the recent firing of FBI chief James Comey, as well as the meeting between US President Donald Trump and Russia's Foreign Minister Sergey Lavrov needed special protection.
"I want to show our potential overlords that I can speak their language. Typically when they invade a country or somehow bring it into their sphere of influence, they force the natives to learn Russian. I just wanted to let them know I've already got that covered, they don't have to do that, even though they are essentially taking over a government day by day as we speak, most recently with this firing of Jim Comey," the host told the audience.
Spewing a number of unproven accusations against Russia, Roginsky went on to criticize the recent meeting of her president with Russian officials.
"Let's just point out – the day after he fired Comey, Trump met with the Russian officials in the Oval Office," she said, going on to suggest that "a Russian journalist from the TASS news agency, the official propaganda arm of the Russian government, was there to take pictures and probably drop some sketchy Russian spy ware."
"This is not a partisan issue, we had a hostile foreign power that our intelligence agencies uniformly agreed tried and attempted to influence our elections," she carried on, to finish her monologue in Russian again.
"You, democracy is stronger than you! You won't win!," she said, addressing "Volodya from Leningrad," apparently meaning president Vladimir Putin.
The latest anti-Russia tirade in the US follows President Trump's abrupt decision to fire the FBI director which the mainstream media rushed to link to the ongoing probe of Trump's alleged "collusion" with Moscow.
Trump's meeting with Lavrov shortly afterwards only added fuel to the fire of conspiracy theories, especially after the Russian Foreign Ministry became the first to publish photos from the talks.

Moscow is meanwhile hopeful that the Russian obsession in the US will pass soon, Kremlin spokesman Dmitry Peskov said on Friday.
"We live in Russia and we have our own agenda. We have many international issues with which Russia is dealing, we have many issues and achievements inside the country which are of high priority for us. Of course, this emotional, let's say, obsession with the 'Russian factor' which is zealously kept afloat in the United States," Peskov said.
"This is regrettable, but we understand that it is necessary to be patient, we hope that the obsession will pass soon."
You can share this story on social media: