'Like factory': Chinese startup uses cell-phone wall for generating likes on social media (VIDEO)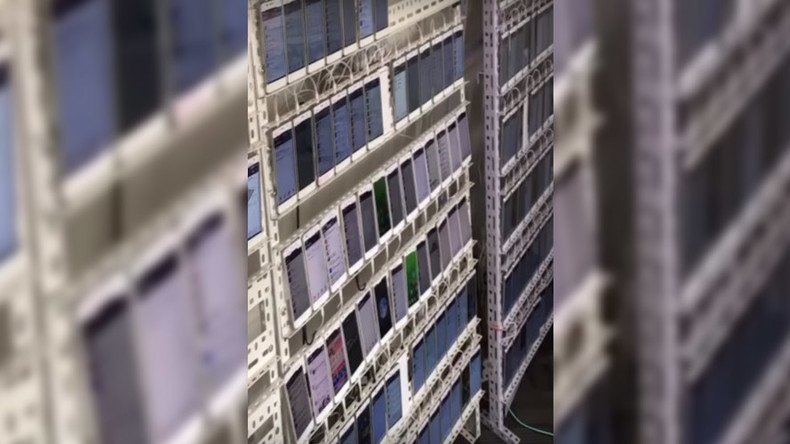 A Chinese tech firm has showed off a wall of cell-phones liking social media posts in a non-stop mode, boosting the popularity of certain accounts and apparently sparing the company's few employees some sore thumbs.
Likes and followers seem to be among the most valuable things in the era of social media, promoting businesses and projects, while IT companies are relentless when it comes to creating new ways of boosting online popularity.
The video of the "high-tech" social media novelty – obtained by the Ruptly news agency – was initially captured and shared by Artem Zhdanov, marketing director of the UChina company on May, 8.
The footage shows an office of what may be described as a "Like factory" – a small Chinese company based in Shenzhen, Guangdong province.
Hundreds of switched on mobile phones are seen installed into a kind of wall, or a stand, tirelessly pushing the like button and following various accounts.
The service has been adopted for the Chinese messenger service, 'WeChat' and is designed to promote certain accounts there by boosting the number of likes, views and comments.
The gadgets are connected to each other via wires and are controlled by a couple computers, Zhdanov said.
The wall with apparently hundreds of phones is a smaller installation while a bigger one with over 10,000 cell phones is located in another place, he also noted.
Social media have become a key element in marketing and promoting businesses. Some people, however, claim that fake accounts and "empty" likes are not the best advertising tools for an aspiring company.
You can share this story on social media: