French philosopher Bernard-Henri Levy pied in the face for 9th time (VIDEO)
Published time: 11 May, 2017 23:23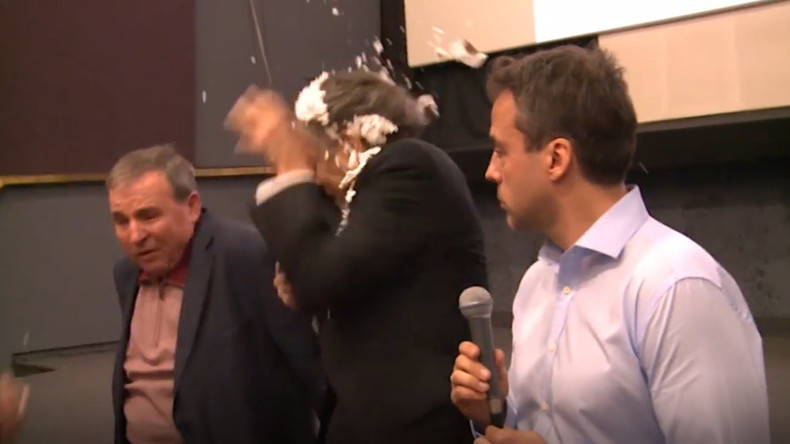 French philosopher Bernard Levy was speaking in Belgrade, Serbia, promoting his film about Kurds fighting ISIS when he was smacked in the face with a pie. Again.
He has been pied more times than most – at least 9 times by the same man, Belgian writer and anarchist Noël Godin, according to The Times.
As the philosopher was removing his pie-stained jacket, he noticed another protester standing behind him on the stage with a banner reading, "Bernard Levy advocates imperialist murders."
The protesters are reportedly from the League of Young Communists of Yugoslavia (SKOJ).
Levy is France's favorite punching bag. Known simply by his initials BHL, his intellectual enlightenment is equally as famous as his very public private life, often splattered across France's glossy color magazines.
Recognized for wearing a black Christian Dior suit over an unbuttoned white shirt, BHL also had the ear of French presidents and fraternized with public affairs.
:
Outside of the socialite pageantry, he is heavily scrutinized for his role in pushing for and supporting NATO's 1999 bombing of Yugoslavia and, again, for backing military intervention in Libya in 2011.