Brawls break out in Florida over cancelled Spirit flights (VIDEOS)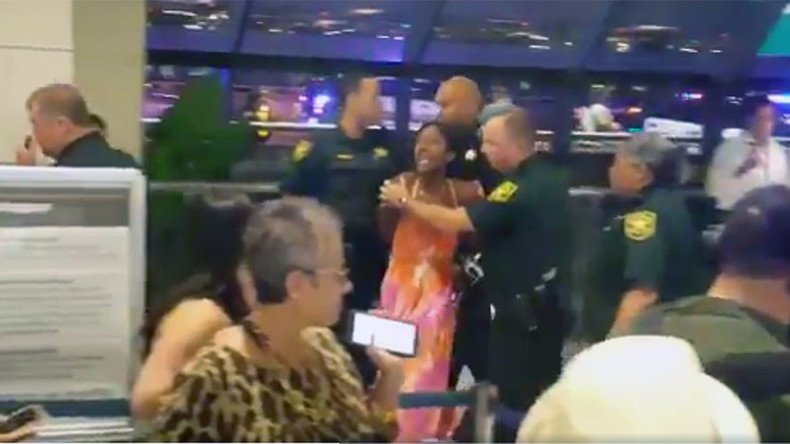 A bizarre brawl broke out at a Florida airport resulting in a massive response from the sheriff's department Monday after Spirit Airlines cancelled 11 flights. Three people were reportedly arrested.
Irate passengers confronted Spirit employees at the ticket line in Fort Lauderdale-Hollywood International after they were told their flights had been cut.
Some passengers arrived from the airplane on which they had been waiting and confronted airport staff. As the situation became heated, members of the Broward Sheriff's Office stepped in.
Video footage shared on social media shows chaos between passengers and the police. One person is seen being roughly brought to the ground by deputies. Another is dragged away by law enforcement. A number of passengers were handcuffed.
"There were several people there that were upset," Broward Sheriff's Office spokeswoman Gina Carter told ABC News. "We were called in to just make sure that things were kept from getting very unruly."
Carter wouldn't say if anyone was arrested, but CBS reported three people were arrested and one person was detained at the airport.
As many as 300 Spirit flights have been cancelled over the last week. Spirit is blaming its own pilots and is suing them in court. The lawsuit, filed Monday, blames the pilot's union, Airline Pilots Association, International (ALPA), for the pilot unavailability.
Spirit says the pilots are turning down last minute assignments and that union members are intimidating other pilots to follow suit. The pilot union, which anticipated the legal action before Friday, told members to work.
According to the lawsuit, the airline cancelled 81 flights on Sunday.
"These pilots have put their quest for a new contract ahead of getting customers to their destinations and the safety of their fellow Spirit Team Members," said Spirit Airlines spokesman Paul Berry.
However, an APLA spokesperson told CNN: "Rather, ALPA and the Spirit pilots are continuing to do everything possible to help restore the company's operations, which have experienced significant problems over the past several days."