Rude nude? Naked Russian artist arrested after crashing Met Gala squashed in glass box (VIDEO)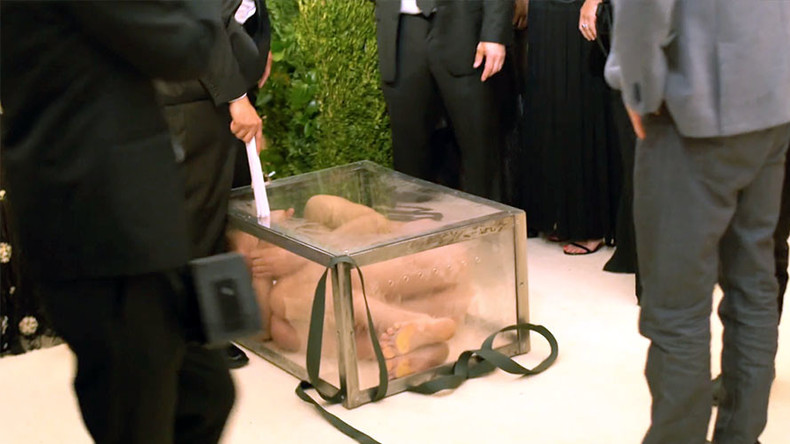 The red carpet of any star-studded event can often host some daring outfits. Russian artist Fyodor Pavlov-Andreevich took it to the next level, though, going for the Full Monty look when he crashed the Met Gala in New York.
At about 8:30pm local time Monday, the artist's crew dropped off their precious see-through cargo containing a squashed Pavlov-Andreevich outside the Metropolitan Museum of Art. Locked in a glass box, he was wearing nothing but his birthday suit.
Staff and celebrities could be seen looking amused as security guards threw a sheet over the box and carried it out of sight.
Firefighters were forced to cut the box open after Pavlov-Andreevich refused to step out of it.
"Fyodor Pavlov-Andreevich has been arrested and locked up at the police precinct after performing the 5th episode of his Foundling series at Met Gala in New York last night. He is under criminal lawsuit at the moment, waiting for the judge to announce the charges," a post on Pavlov-Andreevich's Facebook page read on Tuesday.
On Wednesday, however, Fyodor was released from jail. "I finally have my phone back as am just released from prison – thank you so much everyone for all your wonderful support," he wrote on Facebook.
Described as "a guerrilla performance," the 'Foundling' series was designed to "see how the institution reacts to the passive harmless box with an artist inside."
Similar stunts have previously been carried out at the Venice Biennale party, at the opening of Garage Museum of Contemporary Art in Moscow, at Christie's Vanity Fair party in London and at São Paulo Biennial opening gala dinner.
Pavlov-Andreevich is expected back in court on June 5 and faces charges including public lewdness, obstructing governmental administration, criminal trespassing and disorderly conduct.