State-grown dope: Uruguayans sign up to buy cannabis in drugstores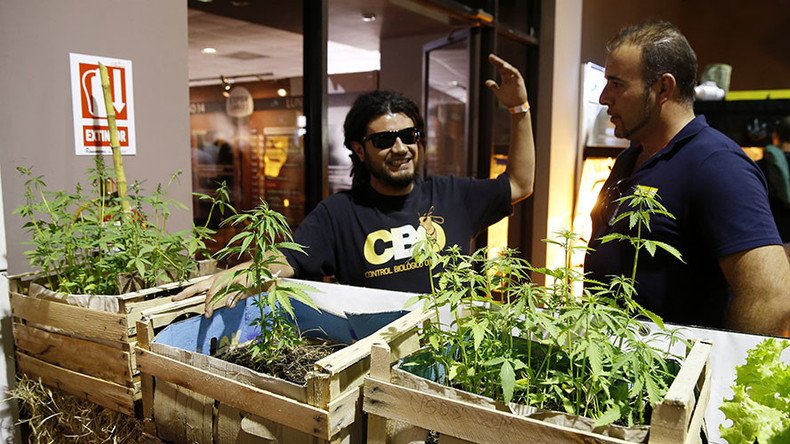 Uruguay has begun collecting names of people who wish to buy cannabis for recreational use, as the it prepares to become the first country on Earth to sell state-grown dope through a network of drugstores.
Uruguayan citizens, or permanent residents in the country, wishing to avail of the service began signing up to the state's weed register on Tuesday. This is the final step in a three-stage process which has already seen pot for recreational use became legal.
The country adopted a law in December 2013 which provided three avenues for smokers wishing to consume cannabis without the risk of running into trouble with the law.
Since passing the law, Uruguayans have been able to cultivate their own plants at home, for personal use, and become members of state-sponsored cannabis clubs.
By signing up to the register, pot smokers will be able to buy their drug of choice from drugstores when the scheme opens in early July. The state-grown pot will be sold for $1.30 per gram, that's $36.40 per ounce.
Cannabis enthusiasts will be able to buy only 5 or 10g packets, with each subscriber being limited to 10g per week.
So far the country has stockpiled 400kg (880lb) of weed, produced by two companies though this is far from enough to meet the appetite of the country's estimated 150,000 regular pot smokers.
"We're far from covering the real demand,"said the head of Uruguay's National Drugs Council, Juan Andres Roballo.
Roballo added, however, that once sales begin, companies will be able to ramp up production. He also reassured would-be customers that the government's weed will be as potent as the product sold by illegal dealers.
"Buyers will have complete certainty about the quality of the product they are consuming, and so the risks will diminish considerably," said Roballo.
The pot legalization measures are the brainchild of previous Uruguayan President Jose Mujica, a leftist-guerrilla-fighter turned politician, famed for living an austere lifestyle, driving around in a banged up Volkswagen Beetle and donating the majority of his salary to charity.
Mujica saw the legislation as a way to loosen the stranglehold drug-trafficking gangs have on the region, with part of the proceeds going to fund government drug prevention programs.
READ MORE: Ex-guerrilla, pot-legalizing, champion of the poor president: Uruguay's Mujica steps down
You can share this story on social media: