Back that Hass up: Global demand for avocados skyrockets, pushes prices to record highs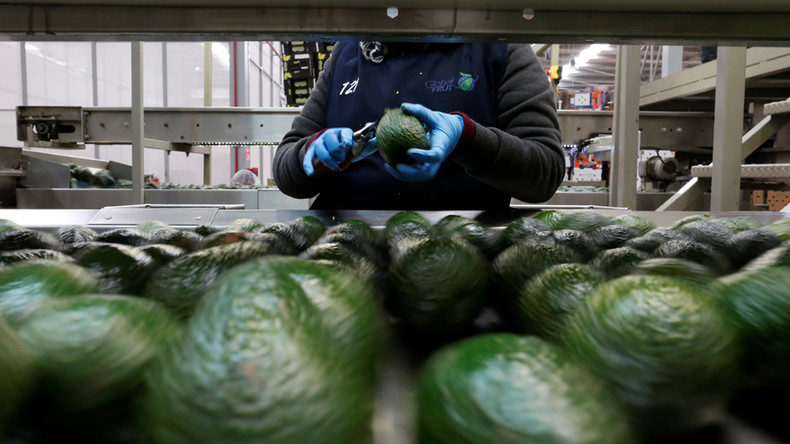 Bad news for guacamole fans: A bad harvest and strike by growers in Mexico have forced avocado prices to a record high.
A surge in global demand, reduced harvests from major avocado producing regions Peru, California and Mexico coupled with a growers strike in the latter have sent prices for the popular fruit through the roof.
A 10kg (22lb) box of Hass avocados from Mexico's biggest producer, the state of Michoacan, now costs a whopping $27.89. That's more than double the cost from just a year ago and the highest price on record, according to Bloomberg.
"You have increased consumption in China and other areas of the world, like Europe," Roland Fumasi, an analyst at Rabobank in Fresno, California said.
"They're pulling a lot more of the Mexican crop, so there's less available for the U.S," he added.
Demand for avocados has grown dramatically in recent years. Consumers are drawn to the fruit because it is packed with healthy oils and fats.
Avocados have the highest protein and oil content of any fruit and are also believed to help reduce the risk of heart disease and cancer, they also happen to be quite tasty and versatile.
Between 2006 and 2015 avocado consumption in the United States almost doubled from 3.5lbs to 6.9lbs per person.
Mexico supplies 82 percent of avocados to its northern neighbor, with exports jumping from 24 million pounds in 2000 to 1.76 billion pounds in 2015.
There is also a huge surge in demand from China, with imports of avocado from Latin America increasing by about 250 percent per year.
Fumasi also believes that avocado prices will "remain at relatively elevated levels. It could be all the way through summer." Fans of the fruit will have to wait until the fall, and hope that next season's crop is larger, before they can expect any drop in price the analyst said.