Return of the jewelry: Darth Vader gold mask has staggering asking price of $1.4mn (PHOTOS, VIDEO)
Published time: 26 Apr, 2017 16:57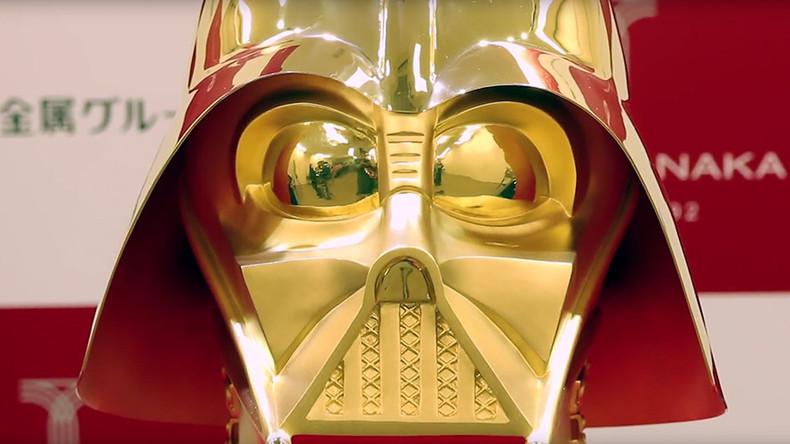 'Stars Wars' fans have the chance to get their hands on the ultimate piece of franchise memorabilia – a solid gold mask of the iconic villain Darth Vader. There's only one snag, the one-of-a-kind mask comes with an even more wicked price tag.
The 24-karat gold sculpture, weighing in at 15kg (33lb) was unveiled by renowned Japanese jeweler Ginza Tanaka, Tuesday. It will go on sale next month to mark the 40th anniversary of the popular sci-fi series.
READ MORE: Power of the Dark Side costs $7.8 octillion per day – Star Wars energy study
With a price tag of a whopping $1.4 million the unique piece of merchandise is aimed at diehard fans with deep pockets.
The 'shiny side of the Force' will be auctioned on May 4 – a sacred day in the calendar of Star Wars fans as it allows them to happily proclaim "May the fourth be with you."
Specially designed gold coins will also go on sale to celebrate the anniversary with a somewhat more affordable price range of between $1,200 and $11,000.
Ginza Tanaka previously created a solid gold replica of footballer Lionel Messi's left foot worth $5.25 million.
'Star Wars: The Last Jedi' is scheduled for release on December 15, 2017 while 'Star Wars: Episode 9' has just been confirmed for release on May 24, 2019.
READ MORE: Petition to crown Star Wars hero Leia official Disney Princess hits 86k signatures