Unroll.me caught selling private user data, CEO 'heartbroken' users didn't read privacy policy
Published time: 24 Apr, 2017 17:44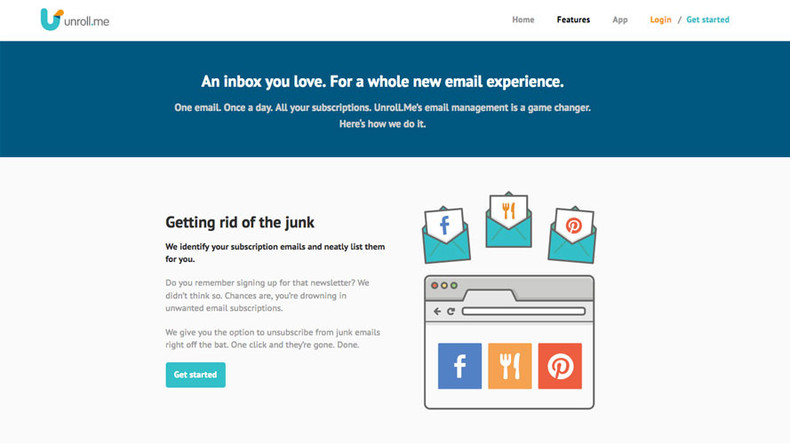 The head of email un-subscription service Unroll.me has said he's "heartbroken" that users are unhappy to learn that the company was selling their data, but people are not impressed with his non-apology.
Unroll.me allows users to unsubscribe in bulk from online mailing lists and newsletters - an attractive free service for those with clogged inboxes. There is a catch, however.
The service requires access to users' email accounts so they can scan for subscription links which are included at the bottom of most newsletters.
After being acquired by shopping app Slice in 2014, the company began selling data about its users. To make matters worse, it was selling the data back to the very same companies users were unsubscribing from, the Guardian reports.
This only came to light as part of a New York Times report about ride-hailing company Uber, which revealed it was buying data from Slice Intelligence.
Slice used Unroll.me to collect email receipts from Uber's rival company Lyft, and sold the data to Uber, allowing the company to analyze its rival's business.
Unroll.me CEO Jojo Hedaya wrote a company blog post addressing the scandal on Sunday.
"It was heartbreaking to see that some of our users were upset to learn about how we monetize our free service," he said. "And while we try our best to be open about our business model, recent customer feedback tells me we weren't explicit enough."
@Unrollme How about a statement before one hits the sign-up button that says "We will monetise your data. Are you ok with that?"

— Drew Smith (@drewpasmith) April 24, 2017
@Unrollme Too late, I'm done.

— Tim Courtney (@timcourtney) April 24, 2017
@Unrollme That you guys hid this in your TOS is hot garbage.

I thought you made money from the ads. That made sense.

Mining my Gmail is 💩💩💩

— chrisEsplin 🖥️ (@ChrisEsplin) April 24, 2017
@Unrollme@jojo Sounds like a case of being contrite abt having been caught. Regardless of TofS, the policy is a betrayal of users who wanted less intrusion

— Jonathan Lane (@jlaorganbuilder) April 24, 2017
@Unrollme@lyft@Uber@jojo@Unrollme What else have you been doing with users' data & burying it in your TOS or Privacy Policy? Please be upfront with what you do.

— Isaiah Joo (@IsaiahJoo) April 24, 2017
@Unrollme@BenedictEvans Nothing on the unroll website suggests any reason you might even look at, let alone snoop on, customer receipts. You want to deceive.

— firmum (@Firmum) April 24, 2017
"Sure we have a Terms of Service Agreement and a plain-English Privacy Policy that our users agree they have read and understand before they even sign up," he continued. "But the reality is most of us - myself included - don't take the time to thoroughly review them."
Hedaya went on to say the company would be clearer in the future, and would continue "protecting your privacy and security above all else."