'April, you are so winter': Blizzards won't let up in Russia, E. Europe (PHOTOS)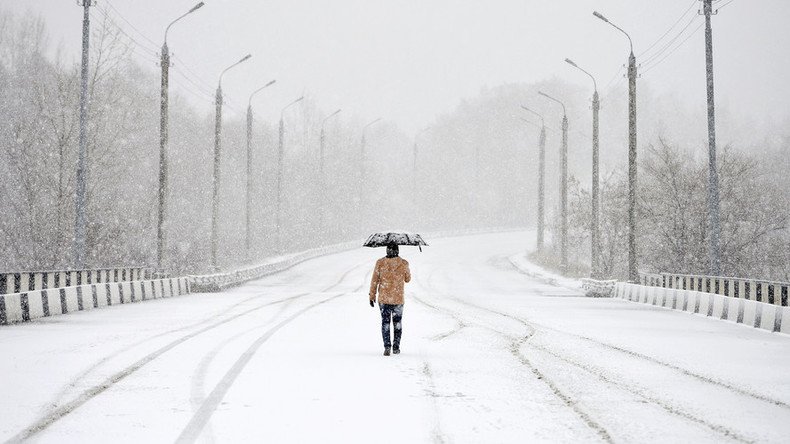 Roads, houses, and even flowers covered in thick snow – though it's mid-April, winter won't loosen its grip on Russia and Eastern Europe, as abundant photos on social media clearly illustrate.
"April 22, It's St Petersburg, baby," was a widely-spread comment on Instagram from residents of Russia's northern capital on Saturday.
Local emergency services warned of snowfall, slippery roads, and fog on Saturday.
"81st day of February in St. Petersburg," one person wrote.
"This eternal winter is driving me crazy. What kind of April is this?!"
Some of the more optimistic users took the opportunity to make one last snowman.
"I hope there won't be so much snow in summer," was one of the comments on the pessimistic side.
"Something went wrong," an observant user noted.
"Spring, you are so winter," another said ironically.
It's not just St. Petersburg, either. Here is the April winter wonderland in the city of Surgut in West Siberia.
The city of Penza, some 625 kilometers southeast of Moscow, has also had its fair share of white stuff this week.
People in neighboring Ukraine were also stunned by surprise snowfalls in April. "I think spring has gone mad," one person from Krivoy Rog in central Ukraine wrote.
In general, the late winter caused a fuss across eastern Europe, creating traffic jams and causing many road accidents. Some 24 people were injured in a 40-car pileup during a heavy snowstorm near the city of Poprad, Slovakia.
Several roads in the Czech Republic have been closed due to heavy snow this week, local media said.
Dozens of road accidents have also occurred in Chisinau, Moldova's capital, AccuWeather website reported.
"It is very unusual to be seeing snow this late in April," AccuWeather Meteorologist Tyler Roys said.
Heavy snow also caused power outages in Romania, leaving thousands of families in the dark, according to local media.
You can share this story on social media: