Up and away: 'Flying car' nails vertical take-off in stunning test run (PHOTO, VIDEO)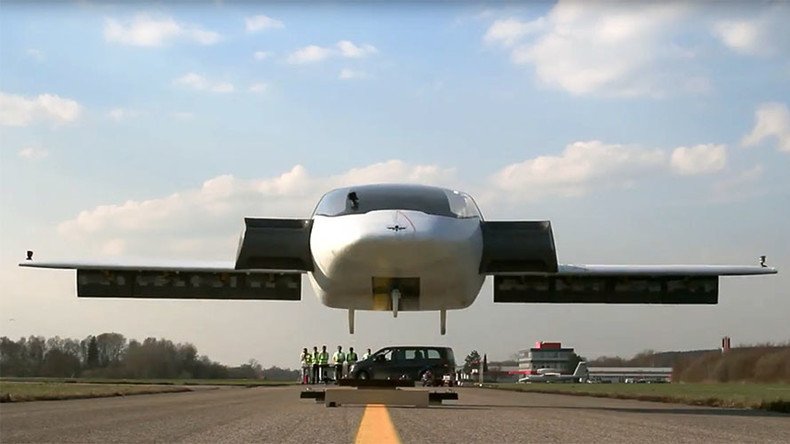 The concept of 'flying cars' was once restricted to the realm of science fiction. Now a German aeronautics firm has taken a big step towards making it a reality.
Lilium Aviation has successfully tested its all-electric vertical take-off-and-landing (VTOL) jet, stealing a march on rivals in the race to deliver the world's first 'flying car.'
READ MORE: Taxi drones set for July launch of passenger service over Dubai (VIDEO)
Propelled by its 36 jet engines, the two-seater VTOL can reach a cruising speed of 300kph (186mph) and maintain that speed for an hour on a single charge.
The firm, which has backing from Skype co-founder Niklas Zennstrom, tested the aircraft's take-off-and-landing capabilities as well as its ability to hover and perform short flights.
The test paves the way for Lilium to achieve its ultimate goal of developing an on-demand air taxi.
In a statement the company said: "We have solved some of the toughest engineering challenges in aviation to get to this point."
Lilium is not the only firm developing flying car technology, however.
AeroMobil announced Thursday that it planned to take pre-orders for the "limited first edition" of its flying cars. The Slovakian firm is confident its car – priced between €1.2mn and €1.5mn can be delivered by 2020.
Meanwhile, Yi-Hang of China is preparing to make its Ehang 184 passenger drone available for on-demand taxi rides in Dubai. The company plans to roll out the drones in July.
Airbus, German firm E-Volo and Boston-based Terrafugia have all been working on similar projects in recent years with designs ranging from rotor-based 'multicopters' to part-car, part-plane hybrids. Taxi company Uber also plans to bring together engineers at its Elevate Summit in Dallas, Texas, to discuss the future of air travel.
You can share this story on social media: