Mt Etna's red hot lava rivers convey awesome power of fire mountain (PHOTOS, VIDEOS)
Published time: 20 Apr, 2017 17:12
Edited time: 22 Apr, 2017 01:20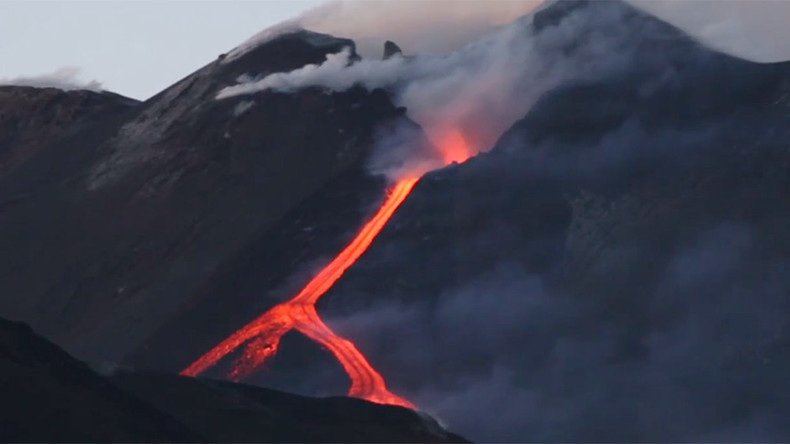 One of the most explosive volcanoes in Europe continues to erupt, with Mount Etna showering the surrounding area with smouldering rocks, ash and torrents of lava.
Intermittent activity has been observed at the volcano since the turn of the year and footage captured on Thursday shows rivers of red hot lava pouring out from the mountain's crater top, while ashen smoke billows into the atmosphere.
During its most explosive episode, Italy's active volcanic giant destroyed nine villages and partially covered the city of Catania in 1669.
READ MORE: Rivers of lava flow onto slopes of Mount Etna after eruption (VIDEO)
Today, more than 340 years later, Mt Etna continues to simmer menacingly over the Sicilian countryside with its medium sized strombolian eruptions offering a reminder of its destructive power.
Last month, the volcano nearly claimed the lives of a BBC film crew who became caught up in hail of rock and ash from a sudden eruption.
READ MORE: MT Etna eruption creates spectacular fireworks display (PHOTOS, VIDEO)
Following the ordeal, BBC global science correspondent Rebecca Morelle described how she and her colleagues were forced to flee the mountain while under fire from falling rocks and "burning boulders".