Cracked it: Artist 'hatches' egg in bizarre museum stunt (VIDEOS, PHOTOS)
Published time: 19 Apr, 2017 18:56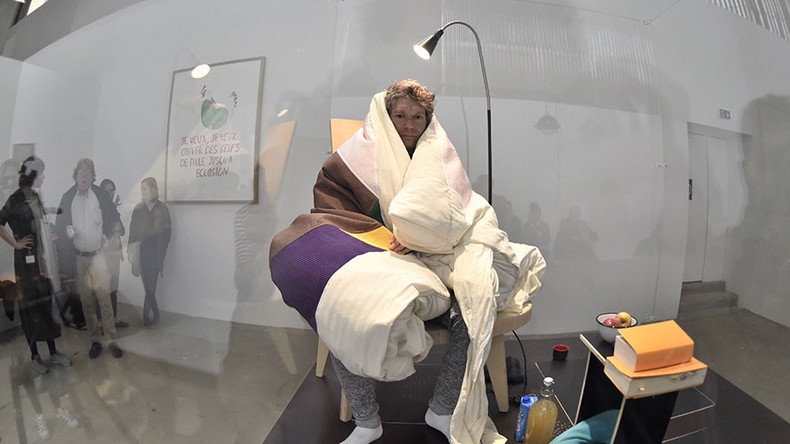 A French artist who has spent three weeks incubating eggs in a Paris museum is celebrating the hatching of his first chick.
Abraham Poincheval, who hit the headlines in February for living inside a rock for a week, set himself the task of sitting on 10 hen eggs in an effort to emulate a character from a 19th-century short story.
READ MORE: Rock art: French artist emerges after week trapped inside boulder (VIDEO)
The 44-year-old has been sitting on the eggs in a glass case at the Palais de Tokyo modern art museum in the French capital since March 29.
The first of the batch hatched Tuesday, signaling the beginning of the end of the project. First, however, the father-of-two must wait for the other nine chicks to follow suit.
"It has been really tough for him. He has slept sitting on the eggs. It's been a lot harder than being shut inside the rock," a spokesman for the museum told AFP, as cited by The Local.
Known as France's most extreme artist, Poincheval has battled boredom, exhaustion and high temperatures in the glass display, with the eggs needing to be kept at a minimum of 37 degrees Celsius (98.6 fahrenheit). Until the chicks' arrival, he is permitted just one 30-minute break every 24 hours.
Those watching the event live on the museum's YouTube feed have seen Poincheval checking on the eggs every few minutes.
When they hatch, the chicks will stay with Poincheval for 72 hours. "He will not feed them for the first 24 hours until their bowels clear and he has enough feed for them inside the vitrine for their first 48 hours of life," the spokesman added.
Poincheval was inspired by the short story "Toine" by French writer Guy de Maupassant, in which a farmer's wife uses her paralyzed husband's body to keep her eggs warm.
The artist's father, Christian – himself famous for having developed a pill that makes flatulence smell like roses – says his son plans on bringing the chicks home to live in a luxury chicken coop.
"I have prepared everything to welcome the chicks. I can assure you that they will never be the centerpiece of a grand feast," said Christian.
In February, Poincheval encased himself inside a limestone boulder and has previously spent time inside a stuffed body of a bear. He's also well known for having navigated France's Rhone river inside a giant corked bottle.