Alien kidnapping? Russian homeless man mistakes drone for UFO, responds with imaginary gun (VIDEO)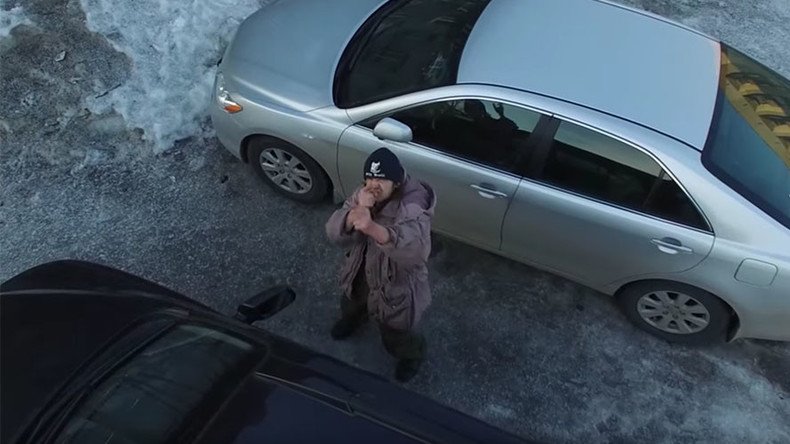 A viral video taken from a quadcopter in northern Russia appears to show a frightened homeless man fleeing and hiding from a drone, before unleashing an arsenal of imaginary firearms at the "UFO."
In a YouTube video dubbed, "An attempt to kidnap an Earthling" the man, referred to as a homeless guy, is seen desperately trying to take cover as he notices the quadcopter buzzing the snowy street.

At first, he fruitlessly attempts to cover his head with a jacket, and then runs to hide behind a car parked nearby. The drone, however, chases on, which leaves the man no choice but to resort to the deadliest defenses he has available: an imaginary shotgun and an ethereal grenade.
Sadly, the viewers do not get to see the extent of the damage the weapons caused to the alien aircraft as it eventually veers away.
The owner of the drone, Andrey Ganichev, who is from the town of Kovdor in Murmansk Region, uploaded the video, set against dramatic background music, to the Russian social network VKontakte and later to YouTube.

Ganichev, who claims the first-contact-like episode happened by sheer chance, also named the newly-created YouTube channel, "The rise of the homeless."

The video, which has gone viral scoring tens of thousands of views in days, has received a mixed reaction. Some fantasized that either Skynet from the Terminator or City 17 from the iconic action-shooter Half-Life 2 are coming to life. Others questioned the authenticity of the incident, claiming the whole thing has been staged. There were also viewers who did not find the clip funny at all, saying the drone operator was harassing the homeless and potentially mentally disabled man.

Whatever the case, the clip could only further strengthen the conviction that the humanity is neither ready to make the first contact with extraterrestrials, nor to submit to our robotic overlords.
You can share this story on social media: