It's a boy! April the giraffe gives birth as massive global audience watches live (VIDEO)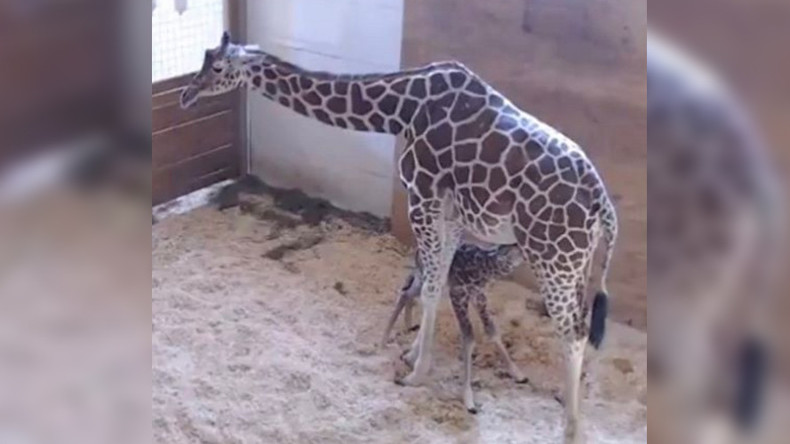 Over 1.2 million people watched via livestream Saturday as April the giraffe gave birth to a baby boy. April has been an international sensation since Animal Adventure, a private zoo in New York, began livestreaming the end of her pregnancy in February.
Now that the calf has been born, the next step is giving him a name - a process that will seek public input.
The birth finally happened at 09:55am local time, with each moment captured live from April's enclosure. The calf weighs roughly 150lbs (68kg) and stands about 6ft (1.8 meters) tall.
The Facebook livestream of the birth has so far amassed over 6.4 million views and generated a vibrant discussion of some 390,000 comments. Another YouTube livestream is being watched by over 1 million people.
According to the zoo, this is the 15-year-old's fourth calf, though the first with her new partner Oliver. April was pregnant for 16 months, a month longer than the average giraffe gestation period.
A GoFundMe fundraiser page that had an initial goal of $50,000 sat at more than $127,000 Saturday morning. The collected cash will be used for the care of the animals.
April has become somewhat of a celebrity in recent months. Aside from the livestreams, she has her own website, Twitter profile, and hashtag which is currently blowing up with giraffe fans around the world posting messages of support and feelings of joy as they got to see the newborn calf for the first time.