'I go to sex parties': Bosnian TV host fired after admitting she's a prostitute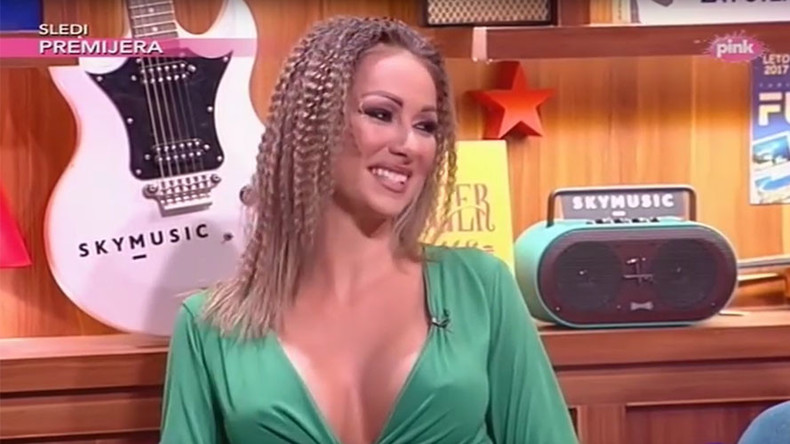 A Bosnian TV presenter has been fired from her job after the station she worked for was flooded with complaints over her admission she also worked as a prostitute.
Senada Nurkic, 26, presented 'The Powerful Program' on Serbian TV channel Pink. In late January she revealed that she was involved in prostitution, unleashing a torrent of complaints that led to her losing her day job as well as her show being axed.
READ MORE: Women have right to sell their bodies for sex, says Cambridge professor
A spokesperson for the channel confirmed the show's cancellation due to complaints over its content and Nurkic's behavior. However, they did not confirm that the prostitution claims were behind the presenter's firing.
"Though the show was conceived as entertainment, without the intent to offend or humiliate anyone – and the ratings were high – the management decided to pull it from the night lineup... due to numerous complaints from viewers," Express magazine report.
Nurkic, who uses the stage name Maca Diskrecija, meaning Pussy Discretion, was also recently kicked off Instagram for posting nude photos.
"Prostitution is a job like any other job. I don't see anything wrong with it," Nurkic said to the Kurir website after it was revealed that she moonlights in the sex trade.
Prostitution is illegal in Serbia, however, Nurkic says she does not fear the law because she has friends in high places.
"I am not afraid of jail," she said. "Those who want to lock me up for whoring should instead help me pay the bills and earn money that I need to live. I have a boyfriend who is a politician and he won't allow me to get arrested."
Describing her clients, Nurkic said: "My services are used mainly by businessmen. When their wives aren't at home, I come to have sex parties with them in the apartment, and sometimes they come to my place."
"It is mostly beautiful and handsome guys that come," she continued. "Some girls can only dream of that, I swear to you. Moreover, they pay me and give me some expensive gifts – perfumes, lingerie, jewelry."