Indian news anchor reads out news of husband's death in car accident – live on air
Published time: 9 Apr, 2017 02:11
Edited time: 9 Apr, 2017 02:12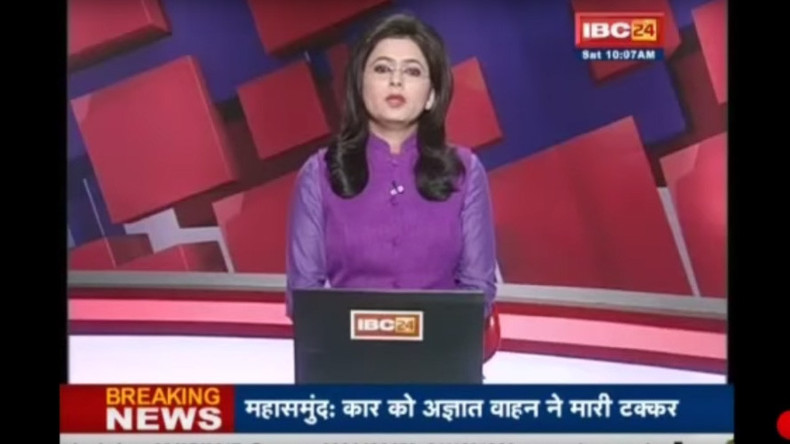 An Indian news anchor kept her composure during a live broadcast on Saturday as she read out the details of a car accident in which her husband had died.
Anchor Supreet Kaur of news channel IBC 24, in the central Indian state of Chhattisgarh, was reading a bulletin on the 10pm evening news when, after about 15 minutes, she went live to a reporter on the scene of a fatal car accident.
According to the Hindustan Times, the reporter at the scene said that three of the five people travelling in the car had been killed. Though he did not give the victims' names, he gave details of the type of car and the area the vehicle was travelling in.
These details were reportedly enough for Kaur to figure out that one of the victims was her husband, Harsad Kawade, whom she had married a year ago. The brave anchor kept reading the news for a further 10 minutes before breaking down in tears once off the air.
"It speaks volumes about her sense of duty and professionalism that she continued, and kept her calm for another 10 minutes. The instant the cameras went off, she began calling her relatives and broke down into tears," The Indian Express quoted a senior IBC 24 editor as saying.
The paper also reports that senior police officials from the Mahasamund district, where the fatal accident happened, confirmed that Kawade was one of the victims.
"There were five people in the Renault Duster vehicle that they were traveling in, and another unidentified vehicle, most likely a truck hit them from behind. The damage to the vehicle was terrible, and three people died, with two others grievously injured, all occupants of the vehicle. Harshad Kawade, a resident of Raipur, was one of them," a senior police officer said.