Head over heels: Local Canadian gov votes to end discriminatory dress codes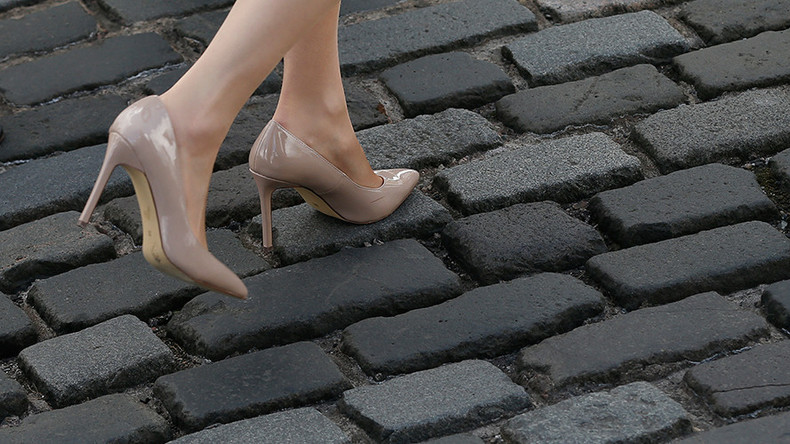 The local government in the Canadian province of British Columbia has banned workplace dress codes which make it mandatory for women to wear high heels, describing such practices as a health and safety issue.
Following a private member's bill filed last month on International Women's Day, which sought to end gender specific dress codes, the regional government decided to approve an amended version of the proposal.
BC's local government found that these requirements put workers at risk of injuring themselves from slipping or falling, as well as potentially causing long-term injuries to the lower body, feet, legs and back from prolonged wearing of high heels to work.
READ MORE: 'Menstrual leave' & abortions: Women's rights debate rages in Italy
The amended British Columbia's Workers' Compensation Act will "ensure that workplace footwear is of a design, construction and material that allows the worker to safely perform their work and ensures that employers cannot require footwear contrary to this standard," the government said in a statement.
BC has banned mandatory high heels requirement in the workplace. Hope ladies at major restaurant chains feel more comfortable now. 👟 pic.twitter.com/xx2WtWync3

— Jill Slattery (@JillSlattery) April 7, 2017
"This change will let employers know that the most critical part of an employee's footwear is that it is safe. I expect employers to recognize this very clear signal that forcing someone to wear high heels at work is unacceptable,"​ Canada's minister of jobs Shirley Bond said.
"In some workplaces in our province, women are required to wear high heels on the job. Like most British Columbians, our government thinks this is wrong. That is why we're changing this regulation to stop this unsafe and discriminatory practice and adding an enforcement element by WorkSafeBC," BC Premier (First Minister) Christy Clark said in the official statement.