Deliveroo's dark double-speak, shady practices exposed in leaked document
Published time: 6 Apr, 2017 19:41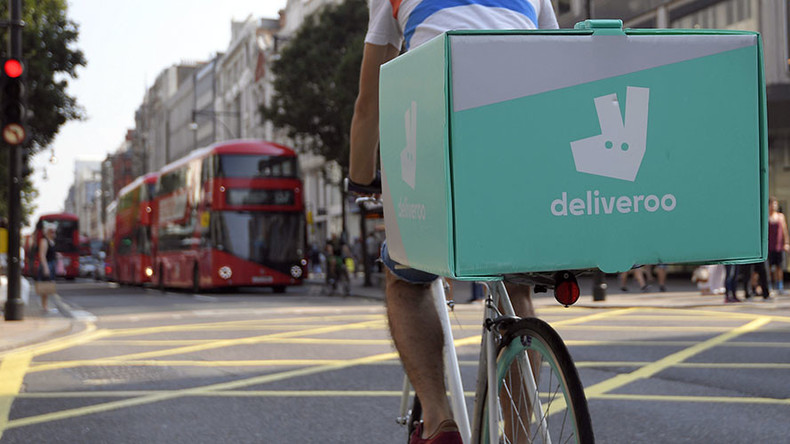 A leaked internal document from Deliveroo reveals the lengths to which the food delivery company goes to avoid calling its couriers employees. The six-page document features a glossary of words to describe shifts, payslips, uniforms and more.
Seen by a number of UK media outlets, the leak comes as Deliveroo couriers plan legal action and outlines a list of 'dos and don'ts' for Deliveroo managers when talking to couriers, who are referred to as "independent suppliers."
Uniforms worn by couriers are "branded clothing," "kit" or "equipment," and, instead of contracts, Deliveroo requires staff to call them "supplier agreements."
As for scheduling shifts, in the world of Deliveroo, it's referred to as indicating "availability." Staff are told not to tell couriers, "You did not attend a shift," but instead say, "You were unavailable to accept orders at a previously agreed time."
Deliveroo, like Uber, forms part of the so-called gig economy, which refers to companies dealing in short-term contracts instead of permanent roles. This allows such companies to save big money by avoiding costs such as paid holidays, sick benefits or other minimum requirements many companies must normally provide. Companies that operate this way also save on taxes and don't have to worry about paying minimum wage.
The documents tell managers to refer to hiring at a recruitment center as "onboarding" at a "supply center" and instead of absent, "inactive" is the preferred term. Payslips must also be referred to as "invoices."
Deliveroo founder Will Shu told ITV News he was "unaware" of the document. Deliveroo later said, however, a version of the document has been around in various forms since 2014.
"We have almost 1,000 full-time staff and work with over 15,000 riders in the UK," Deliveroo said in a statement to ITV. "We ensure that employees know how to work with our partners, which includes training and guidelines to follow when talking to customers, restaurants, and of course self-employed riders."
Deliveroo couriers in the UK are demanding union recognition and more worker rights. The Independent Workers Union of Great Britain (IWGB) is also fighting for union recognition at Deliveroo in Camden and Kentish Town, London.