Alien-like sea snails feast on the carcasses of dead blue jellyfish (VIDEO, POLL)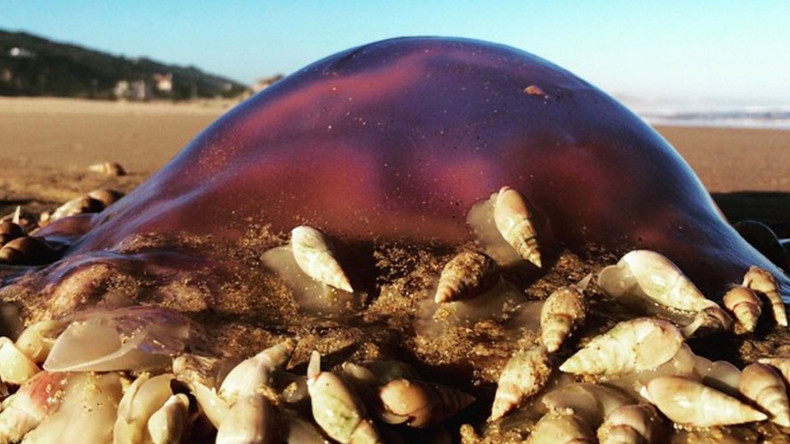 Eerie footage of sea snails feeding on the carcasses of dead blue jellyfish on a South African beach has gone viral, creeping out netizens the world over.
National Geographic photographer Keith Ladzinski posted the creepy alien-esque scene to the nature magazine's Instagram account on Wednesday.
In roughly 24 hours, the video has amassed over 540,000 likes and generated an animated discussion with more than 10,000 netizens commenting on the strange phenomenon.
In the post, Ladzinski explains that he happened upon the plough snails' feeding frenzy while travelling along South Africa's picturesque Garden Route, a stretch of coast along the southwest of the country.
"I came across this at dawn this morning while walking along the beach here on the beautiful #gardenRoute and grabbed this vid clip with my phone," Ladzinski wrote. "All part of the ongoing circle of life in this healthy ecosystem."
READ MORE: Stunning footage of 'cosmic jellyfish' captured in NOAA's expedition (VIDEO)
Many of those commenting on the post were fascinated by the snails' rapid movement and strange beauty.
"Was that sped up!!!? Those snails are haulin!!! I thought snails were slow, slow as, well snails!" wrote one enthralled user.
"I like this and alien-esk is perfect -beautiful and creepy. I have to get out in the world more," another commented.
Though for some, the alien-like scene was the stuff of nightmares.
"Show this to your mom for some good screams,""Omg my worst nightmare,""Screeches and runs away," a variety of frightened netizens exclaimed.
READ MORE: Bubble wrap beach: Thousands of blue jellyfish invade Australian shore (PHOTOS)
You can share this story on social media: