'Warren Buffett is China's Beyonce': Billionaire becomes face of cherry cola
Published time: 4 Apr, 2017 21:54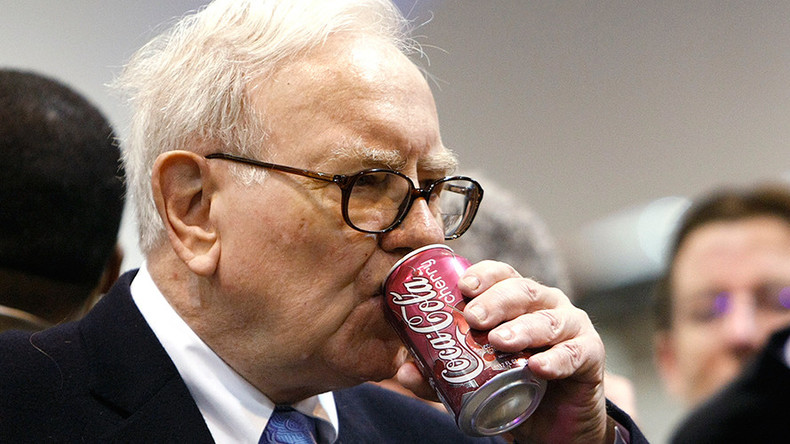 Billionaire Warren Buffett is such a connoisseur of a particular brand of Coca-Cola that the fizzy drinks giant has decided to make him their (octogenarian) poster boy for cherry coke in China.
The 86-year-old magnate, who holds business interests in Duracell, Coca Cola and a number of media outlets, is reportedly an avid guzzler of coke - the carbonated, sugary drink.
Citing Buffet's love for Cherry Coca-Cola, the world's largest beverage company has now decided to slap a cartoon image of his face on cans going to market in China.
"As we thought of the most creative ways to bring the great taste of Cherry Coke to China, we thought who better to celebrate the launch of this special drink than its best-known fan," said Shelly Lin, Coca Cola's marketing director.
"We honestly were surprised when Mr. Buffett agreed to the idea. But we're thrilled, and he's selling well," she added.
"I said it would be fine to do it for the first six months after launching the product," Buffett told Yahoo Finance. "If there are no problems associated with this and he [Coca-Cola and CEO Muhtar Kent] asks me to continue, I will likely say OK. Incidentally, there is no compensation involved."
The announcement has seen an outpouring of comment online, with one person even comparing Buffett's promotional turn to that of Beyonce and Coca Cola's rivals, Pepsi.
The billionaire's business ventures have not been all sweetness and light, however.
Buffett's Berkshire Hathaway Inc. announced job losses of 289 from its media group on Monday, affecting a number of newspapers, Bloomberg News reported.
"While more readers than ever turn to our digital products, our digital revenue is not growing face enough yet to offset print revenue losses from both advertising and circulation," BH Media Group chief executive, Terry Kroeger, wrote in a memo.