Trump uses outrageously big chart to make point about red tape (VIDEO)
Published time: 4 Apr, 2017 19:46
Edited time: 5 Apr, 2017 06:38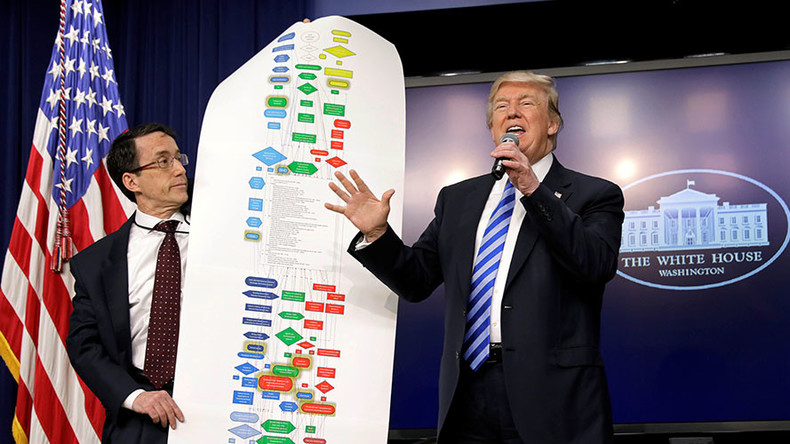 US President Donald Trump used an outlandishly large chart to explain why he wants to tackle federal regulations while speaking at a Town Hall meeting with business leaders.
A relaxed Trump was meeting with about 50 business leaders at the White House on Tuesday. He regularly chatted with members of the crowd and referred to them by their first names as they discussed ways of improving the business climate in America.
Getting rid of regulations seemed to be one of the more favored ideas and the president used a giant, 7-foot-tall flowchart to show all the various hoops that have to be jumped through to gain approval to get a highway built.
"You have, is it 17 agencies? You have hundreds and hundreds of permits, many of them are statutory in that you can't even apply for the second permit until six months go by… This is to build a highway, this is a simple highway," the president explained, stating it can take from 10 to 20 years for approval.
Trump said he brought a flow chart to show how long it takes to get all the necessary federal permits, before saying he wants to slash the length of the process from 10 years down to one.
"Every industry is just like that chart," Trump said. "We want clean air, and we want clean water. But we shouldn't have to get approval from 60 agencies for the same thing… We are going to cut a lot of red tape."
The Town Hall was attended by several business leaders including the chief executives of MasterCard, the New York Stock Exchange, Citigroup and JetBlue Airways.
Trump's "amazing" chart also traveled with him to the annual conference of North America's Building Trade Unions (NABTU) in Washington DC on Tuesday.
Trump told those gathered that the Empire State Building was constructed in 13 months during the 1930s Great Depression, using the chart to show how you can't even get a permit in that timeframe at present, before promising he would change this.
"I'm not and I don't want to be the president of the world, I am the president of the United States," Trump said. "And from now on, it's going to be America First. We're going to bring back jobs, and yes, we're going to bring back the American Dream."