Anti-racism activists and Soldiers of Odin clash in Toronto (VIDEO, PHOTOS)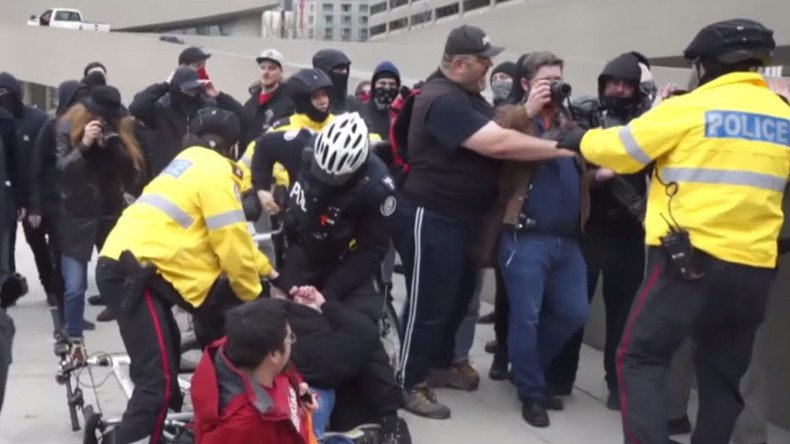 Anti-racism protesters and members of the anti-immigrant grouping, Soldiers of Odin, have been involved in violent street clashes in Toronto, Canada.
A group calling themselves the Concerned Coalition of Canadian Citizens (CCCC) organized a gathering outside Toronto City Hall on Saturday. That sparked a counter protest from the Organizing Committee Against Islamophobia (OCAI).
"This Saturday, Islamophobic group the Concerned Coalition of Canadian Citizens (CCCC) will be marching again at City Hall!" The OCAI said in a Facebook post before the marches.
"Their membership includes known white supremacists and fascists, the Soldiers of Odin, and the Jewish Defense League… We must come together to show our opposition to this hatred!"
The two gatherings were marked by ugly scenes when the demonstrations clashed in downtown Toronto. Video from the scene shows masked anti- racism protesters in violent altercations with members of the Soldiers of Odin, the anti-immigrant group that started in Finland but has sprouted branches in several countries.
"In the last about month and a half, there has been a really alarming rise of alt-right groups, like the Soldiers of Odin and the Jewish Defense League, and others having a really visible presence at Toronto City Hall," protester Sarah Ali, from the OCAI, told CBC after the clashes.
READ MORE: Founder of Finland's anti-migrant 'Soldiers of Odin' convicted of aggravated assault
In a video on the Soldiers of Odin Canada Facebook page, Mike Montague, who describes himself as the group's public relations commanding officer, said the group was providing security for the CCCC demonstration. "First off I'd like to say great job to all our members… They got surrounded and assaulted and defended themselves plain and simple," Montague said.
CBC say around a dozen Soldiers of Odin were present with some carrying signs criticizing Canadian Prime Minister Justin Trudeau.
Footage also shows one of the Soldiers of Odin powerfully kneeing a masked demonstrator in the head. Around 40 police were on scene and they aggressively inserted themselves into the crowd to quell the violence. Meanwhile, the anti-racism crowd can be heard chanting "Nazi scum off our streets".
"I feel like I have to make a stance not just for myself but for my family and my friends," One of the OCAI demonstrators said to Ruptly explaining why she attended the protest.
CBC report that at least five people were apprehended by police but it's not clear how many were arrested or released. Toronto police have not confirmed how many people, if any, were charged.
You can share this story on social media: