Dubai's Crown Prince uses luxury Mercedes to help rescue dump truck (VIDEO)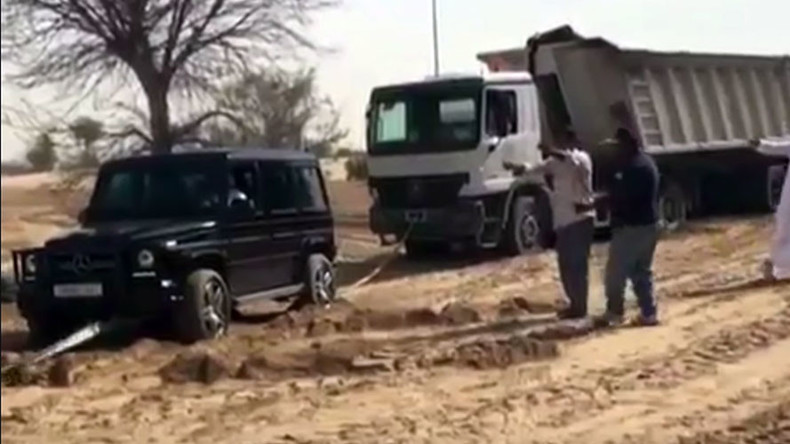 Dubai's Crown Prince may have an estimated family fortune of US$12 billion to play with, but footage of him bailing out a stricken dump truck suggests he's not above helping those lower down the oil-rich region's social ladder.
Sheikh Hamdan Bin Mohammed Bin Rashid Al Maktoum, or 'Fazza' as he is known on Instagram, was captured on camera helping out the driver of a large truck which appears to have become stuck in UAE desert sand.
The clip, shared on Instagram by user Saeed Hilal, shows a Mercedes AMG G63 towing a 12-wheel truck through a sandy stretch of road. Laden with soil, the truck struggles along the difficult terrain until the Merc, a pickup truck and a tractor intervene to pull it to solid ground.
READ MORE: Fire breaks out in downtown Dubai (PHOTOS, VIDEOS)
At one stage the Mercedes gets stuck before the vehicles combine to form a chain and complete the desert rescue.
The driver of the Mercedes SUV, which matches the Sheikh's 'Dubai 11' license number, then reveals himself to be part of the Al Maktoum royal family, one of the richest in the United Arab Emirates. The Crown Prince has not posted online about the incident. However, recent pictures on Instagram show him sporting similar clothing whilst cruising in his Merc.
English language newspaper, Gulf News, reports that the video was first posted online late last week and has since attracted more than 54,000 views.
READ MORE: World's tallest building struck by lightning during major storm (VIDEOS)
Al Maktoum's family had to be bailed out to the tune of US$10 billion by neighbors Abu Dhabi in 2009 after the Dubai government fell into debt during the global economic crisis. The Crown Prince of Dubai's recent social media posts reveals that the family still live in a lap of luxury, however, with a collection of exotic animals and regular international trips.