Collection of 340+ vintage cars up for grabs in Canada (PHOTOS)
Published time: 2 Apr, 2017 15:00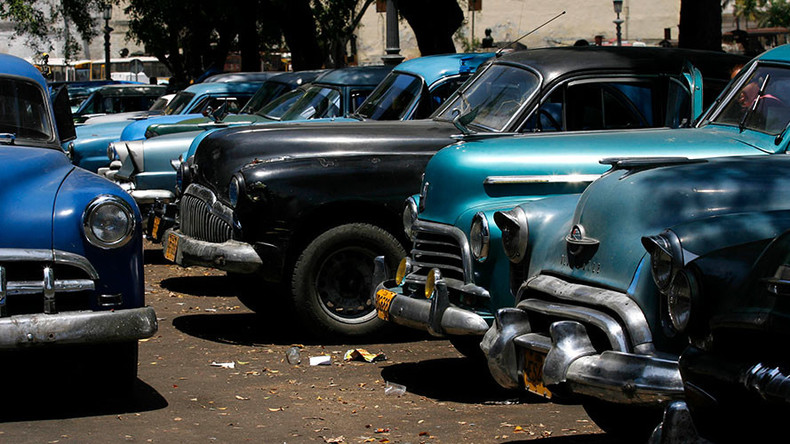 An auto enthusiast's dream is now up for sale in the Canadian city of Tappen. For Can$1.45 million (US$ 1 million), the lucky purchaser can get more than 340 cars of different models, years, and power. A house and five acres of land are included.
Owner Mike Hall, 60, is selling his entire collection, which he started with 50 cars when he was only 20.
"First it was 50 cars. Then the collection grew to 100. I bought more and more. It's easy to buy them when you're working. It's like an addiction. With 100 cars, 200 seemed better, and now it's well past 300," – he told the Driver website.
The auction appeared on a Canadian real estate agency website, which says that "value is more than the asking price" for what they call a "lifetime opportunity to own your vintage auto wrecking business."
The lucky buyer will enjoy "restoring vintage cars and living in one of the most beautiful parts of B.C. [British Columbia]."
The price includes all the vehicles, each one valued from Can$500 to Can$35,000, as well as an auto salvage zone, "a renovated house," and "a 900-square-foot restoration shop."
The range of cars is rather wide, as the collection boasts old vintage vehicles, rare items, as well as muscle cars. A rare 1966 Pontiac Beaumont SD (Sport Deluxe), a DeLorean (the car from the film Back to the future), a 1968 Chevelle SS396, a 1941 three-window Dodge business coupe – are all for sale, to name just a few.
The owner has even lost count of the cars and still can't resist dragging cars to the property.
But it will not be possible to purchase only one or two items separately, as Hall is selling the entire property as a package, and hopes the future owner will be as enthusiastic as he is.
Mike Hall admitted that parting with his life's work would be painful.

"If they're all gone it's going to leave a pretty big void in my life," – he told CBS Radio-Canada, adding that the loss is "kinda like getting kicked square in the you-know-whats."