NASA's new Mars drone to scout for human habitation sites (VIDEO)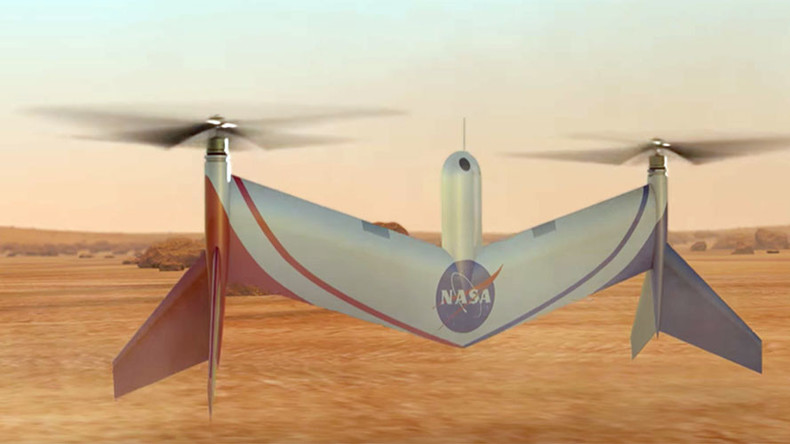 The way humans explore Mars could be about to take a giant leap forward with the invention of special flying drones to explore harder to reach parts of the red planet. NASA says the devices could help identify sites for human habitation.
Engineers from NASA's Langley Research Center are developing a drone that can fly in the thin Martian atmosphere. The autonomous aircraft will team up with ground-based rovers to give researchers far greater flexibility in exploring currently inaccessible features, such as lava tubes and deep canyons.
As well as exploring hard to reach places, Langley engineers say the drones will scout the surface of Mars looking for suitable areas to build human habitats.
The "Mars Electric Flyer" project focuses on lightweight structures powered by electric motors. These machines will have vertical takeoff and landing flight control, as well as autonomous navigation.
READ MORE: Red planet washout: Strong evidence of giant tsunami on Mars — study
The electric-powered drones will be equipped with cutting edge motor and battery technologies so they can carry out long-range missions without human intervention. The machines will also be equipped with advanced mapping and remote sensor systems.
The plan is to send the aircraft to Mars on board one of NASA's rovers. A concept video released by Langley shows the rover using a robotic arm to release the drone on the surface of the planet. The drone then takes off to explore caves and canyons before returning to the rover for post-mission recharging.
READ MORE: Hang skyscraper from orbiting asteroid: NY architects behind Mars ice station (PHOTOS)
The autonomous aircraft, still in the prototype stage, is designed for the thin atmospheric conditions on Mars and is currently undergoing low-pressure chamber flight tests at Langley.
You can share this story on social media: