Lamborghini's crime-fighting supercar set to terrify Italian criminals (VIDEO, PHOTOS)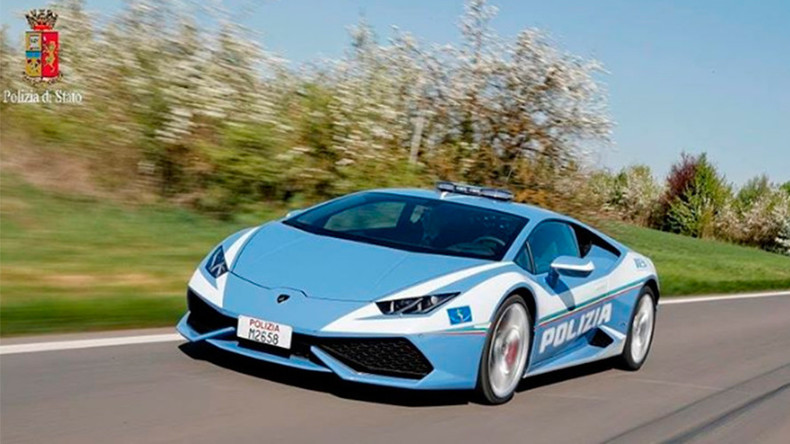 Any criminals planning a high-speed chase with Italian police may want to reconsider. Italy's National Police have just received a brand new Lamborghini supercar that's capable of reaching up to 300 kph (186 mph).
The Huracan, which will be deployed in the city of Bologna, and can also be used to quickly transport blood to victims of road traffic accidents and to rush organs to hospitals in case of emergency.
Polizia di Stato took possession of the impressive speed demon at a ceremony at the Interior Ministry on Thursday.
The Lamborghini Huracan is the latest iteration from the Italian sportscar giant and, according to the company's website, can accelerate from 0-100 kph in a mere 3.2 seconds.
The car, decked out in police colors, will be used to patrol the country's roads, hunting down offenders who will stand little chance of outrunning the 640 horsepower, V10-powered machine.
This is the second time Lamborghini have gifted the Italian police one of their supercars. In 2009, police were handed the keys to a new Lamborghini Gallardo, which will now enjoy a well-earned retirement at the historic police car museum in Rome.
"It did 150,000 km for us, which just goes to show it was a really well-built vehicle and it saved lives with its organ transplant trips," The Local quotes Interior Minister Marco Minniti as saying.