Hunters kill radioactive boars in Fukushima ghost towns (GRAPHIC VIDEO)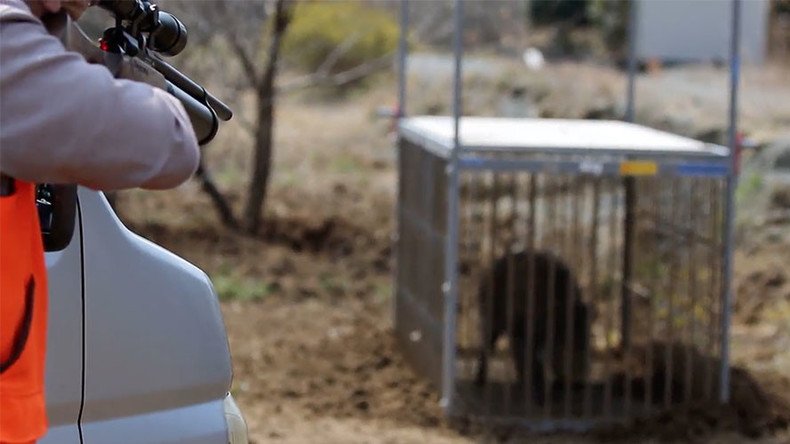 Activist hunters are shooting wild boars which freely roam abandoned towns near Japan's crippled Fukushima nuclear power plant, as officials plan to repopulate the area.
Following the 2011 tsunami and subsequent nuclear disaster in Fukushima, Japan, wild boars moved into radioactive areas which residents abandoned. The animals are numerous, intelligent, quite vicious to humans, and do not give up their conquered territory without a fight, the activist hunters say.
The boars' ability to adapt "becomes gradually higher, they avoid getting trapped... So now, the number of wild boars seems unmanageable for a local group like us," the leader of Tomioka animal-control hunters group, Shoichiro Sakamoto, said.
The Tomioka hunters venture into the streets of the abandoned town twice a week to deal with the swine menace. They lure the boars into cages with rice and then kill them with a well-placed head shot from a powerful pellet gun. Boar corpses are subsequently disposed of using bacteria.
Before the disaster, Tomioka was home to 16,000 people. More than half of the former residents, according to a recent survey, have decided not to return, citing concerns over health and radiation around the nuclear plant. Wild boars pose an additional threat to those opting to return.
"For all the infrastructure maintenance to revive the city, we need to use machines and various other tools, and only then can it be revived. However, we cannot calculate this on a desk. As you know, what we are facing now is wildlife, and the wild boars have four feet," Sakamoto said.
Several hundred boars have been trapped and killed since last April, when the crackdown began. Animal control officers, however, still have a lot of work to do after a year of hunting, as the local group's resources are very limited.
"The government should create a larger organization, otherwise it will be much harder to manage, and will eventually be too late to handle. We urgently need the government to come up with a solution for us," Sakamoto said.
You can share this story on social media: