Stephen Hawking appears at conference via hologram, discusses Trump (VIDEO)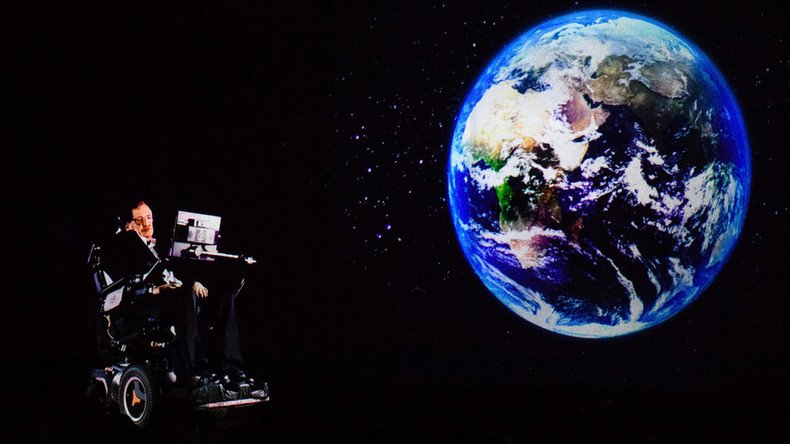 World renowned physicist Stephen Hawking appeared via hologram at a conference in Hong Kong, and had some interesting things to say about the rise of US President Donald Trump.
"Can you hear me?" Hawking asked the audience in his iconic computerized voice. "Yes!" came the enthusiastic response from hundreds of people gathered for the event in the Hong Kong Science Park.
READ MORE: Stephen Hawking calls for 'world government' to stop robot apocalypse
In a speech that went on for more than an hour, the 75-year-old discussed a wide range of topics, including Brexit, Donald Trump, life on other planets, and his life and research, Global Times reports.
Striking a dour note, Hawking expressed his belief that the election of Donald Trump was part of a series of "right-wing successes" which could imperil the future of scientific research.
"With Brexit and Trump... we are witnessing a global revolt against experts," the British scientist said, as cited by AFP.
The cosmologist and physicist, who gained acclaim for his study of black holes and theories on gravity, said the resurgence in right wing political ideas comes as the world is facing numerous environmental challenges. "The answers to these problems will come from science and technology," he suggested.
READ MORE: French leftist Mélenchon launches presidential campaign with hologram (VIDEO)
Hawking's hologram was created by Hollywood-based company ARHT, who call their human holograms 'HumaGrams.' The company have previously created holograms of TV host Larry King, rapper Notorious B.I.G., and motivational speaker Tony Robbins.
You can share this story on social media: