Man casually walks bear in residential area (VIDEO)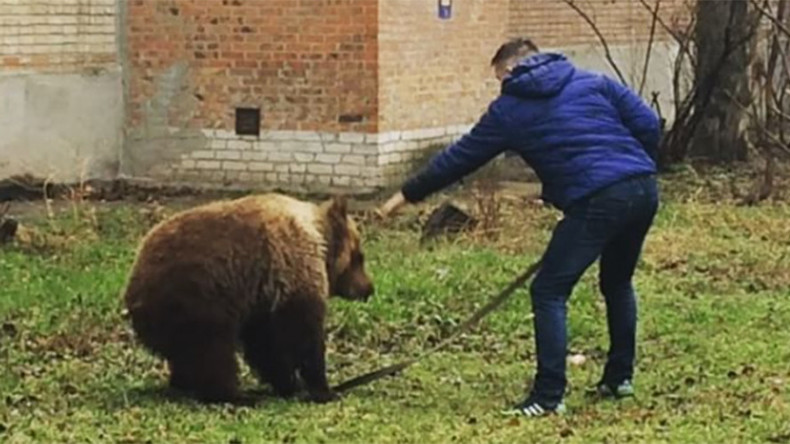 Police are looking for a man who took a bear into the streets of Taganrog, after a video of him playing with the large, unmuzzled animal hit the web this weekend.
Internet users posted their recordings of a young man playing with a bear on a leash in a residential area of the southern Russian city of Taganrog.
Although onlookers appear to be calm in the videos, one of the men behind the camera is giggling while filming, commentators online showed more concern.
"It's a bear, not a hamster. He can gobble up a passerby… as for the young man, he appears to have been raised with no sense of responsibility or intellect," one woman commented on an Instagram post.
"Dangerous games. People could get hurt and they'll shoot the bear if anything goes wrong," a YouTube comment reads.
Others took the incident lightheartedly though, with an array of "only in Russia" comments:
"The man isn't walking the bear, he's looking for his shapka [hat], balalaika and vodka that he forgot somewhere there," YouTube user Yura Nikitin joked.
Meanwhile in a real life horror story from the same region, back in 2014 a bear bit off a five-year-old's hand when the girl stuck it into the animal's cage.
The bear was illegally on display without a proper facility in a local recreation resort. The girl was hospitalized, losing her entire hand.