Mid-air collision over Montreal mall leaves 1 dead (PHOTOS, VIDEOS)
Published time: 17 Mar, 2017 23:31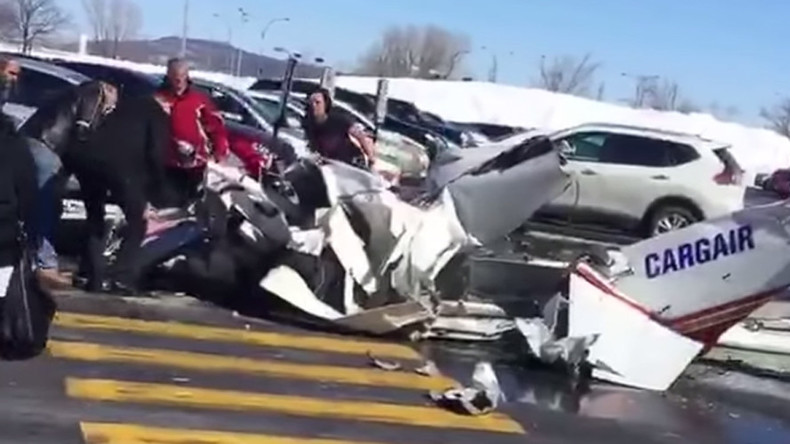 One person has died and at least three others are injured after two planes collided above a Montreal shopping mall.
The pilot of one plane was killed in the crash while the other pilot is reported to be critically injured, according to CBC News. At least two other people were injured in the incident.
Person who died in Montreal-area plane crash was pilot of one of the planes, other pilot in critical condition. 2 people treated for shock.

— CBC News Alerts (@CBCAlerts) March 17, 2017
The two small Cessna 152 planes collided mid-air in Saint-Bruno on Montreal's South Shore just before 1 pm Friday according to Quebec Public Security Minister Martin Coiteux, who expressed his condolences to the family of the victim and commended the first responders.
Accident avions: Mes pensées aux familles de la victime et personne blessée. Merci 1ers répondants pour leur intervention rapide à St-Bruno

— Martin Coiteux (@CoiteuxMartin) March 17, 2017
Police said the cause of the crash is unknown but it appears to be accidental.
One of the planes reportedly smashed into the roof of the Promenades Saint-Bruno shopping mall while the other crashed into the parking lot. The shopping center was evacuated.
Le @PoliceSPAL confirme que l'accident d'avion aux Promenades St-Bruno a fait un mort et un blessé grave. L'enquête est menée par le SPAL.

— Police de Longueuil (@PoliceSPAL) March 17, 2017
Canada's Transportation Safety Board confirmed to CBC News that the two planes belong to Cargair, a flight and pilot training school based in nearby Saint-Hubert.
The agency also said it was deploying a team of investigators to the site to assist Longueuil police department with the investigation