'Where's the tranquilizer gun?' Outrage as young bomb-detector dog shot dead at airport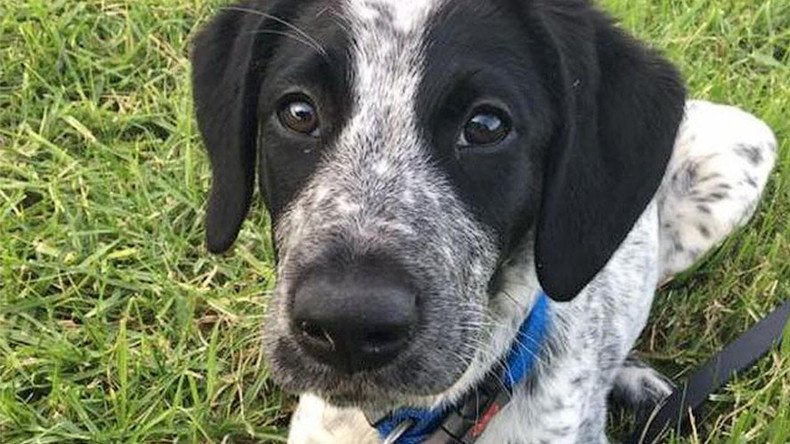 The killing of a young trainee bomb-detector dog that caused flight delays at Auckland Airport in New Zealand has sparked outrage on social media. People are questioning why the animal wasn't simply tranquilized.
Ten-month-old puppy 'Grizz', which was being trained as an explosion detector with the Aviation Security Service (AVSEC), escaped his handlers on Friday morning. The pooch spent approximately three hours loose on the airport grounds, including on the runway, as handlers tried to coax him to safety.
READ MORE: Rare 'cappuccino' bear shot dead at German zoo after escaping from cage
The dog caused 16 flights to be delayed before he was shot dead by police. The Guardian is reporting that "pilots refused to risk passenger safety by taking off with the dog on the loose."
Police said in a statement that the decision to shoot Grizz came following "considerable efforts over several hours by AVSEC and airport staff to contain the dog."
Unfortunately an Aviation Security dog was shot this morn @AKL_Airport staff had tried for 3 hours to catch it our thoughts are with handler

— Auckland Airport (@AKL_Airport) March 16, 2017
"Our thoughts are with the AVSEC dog handler involved. This is not an outcome which anyone wanted, and police were only asked to be involved as a last resort," the statement said.
Auckland Airport originally announced on their official Twitter page they had captured the dog, before revealing an hour later that Grizz had been killed.
A source told News.com.au that police staff and Grizz's handler are "absolutely devastated." Police and AVSEC stated that they had no choice but to kill the dog.
"All efforts to capture the dog were exhausted and the airport company had no option but to request police to shoot the dog," AVSEC spokesman Mike Richards said. "The handler and AVSEC are naturally upset, but do understand there were no other options, in the very difficult circumstances. The dog was not on the tarmac at the time."
"When he was located he would not let anyone near him and kept sprinting across the runways… He did not have a permanent handler so was less responsive than a dog with a permanent handler," Richards explained.
It is so awful to hear that the dog at Auckland Airport had to be put down. What an incredibly sad outcome.

— Adam Morris (@bigmarnmorris) March 16, 2017
Richards said AVSEC would "undertake a review of the incident to try and ascertain what spooked the dog and if this has any implications for ongoing training."
He revealed that the total investment in getting a dog like Grizz to final 'graduation' was approximately NZ$100,000 (US$70,000).
New Zealand animal rights group SAFE (Save Animals From Exploitation) condemned the killing, questioning why the animal wasn't tranquilized.
"We believe that a tranquilizer gun should have been used instead of lethal force," SAFE ambassador Hans Kriek said.
"We hope that this incident will lead to better protocols being put in place so that in future these type [sic] of events will be handled more humanely," Kriek concluded.
Breakfast TV host Hilary Barry was also extremely critical of how authorities handled the situation. Speaking on TVNZ's Breakfast program she asked: "Do they not have a tranquilizer gun?"
After Harambe and Grizz, why don't we just make all guns tranquiliser guns?

— Jo Thornely (@jothornely) March 16, 2017
Grizz is going to be this generation's Harambe, I just know it

— Stephen Murray (@smurray38) March 16, 2017
Numerous social media users compared the shooting to the high-profile killing of Harambe the gorilla at Cincinnati Zoo last year.
A Change.org petition titled 'Justice for Grizz' was launched in the wake of the incident, quickly garnering over 1,500 signatures. The petition will be delivered to Auckland SPCA.
You can share this story on social media: