Violent Mt Etna eruption injures BBC crew (VIDEO, PHOTOS)
Published time: 16 Mar, 2017 18:42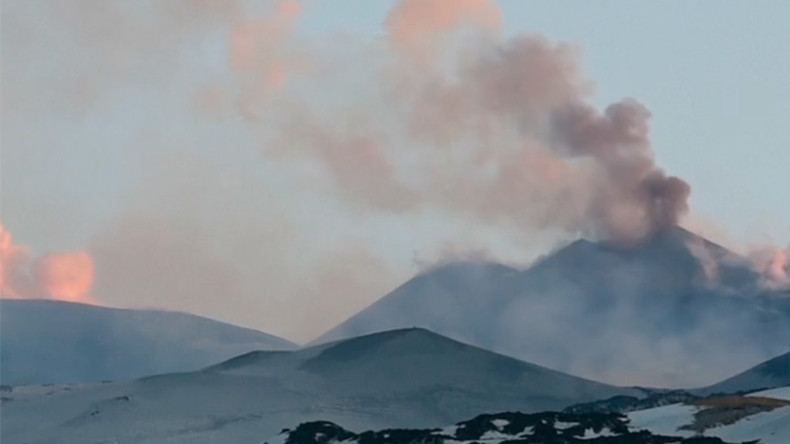 Up to 10 people, including members of a BBC crew, have reportedly been injured following a sudden volcanic blast on Europe's most active volcano, Mount Etna.
The violent explosion caught the crew unawares while they were filming a report on the volcano. BBC correspondent Rebecca Morelle described the incident as "extremely scary" but confirmed everyone was ok, despite some people receiving "cuts, bruises and burns."
Volcanologist Boris Behncke, part of the expedition, also received minor injuries to his head during what he described as a "violent explosion."
Caught up in incident at Mount Etna - bbc crew & tourists caught up in huge explosion - caused injuries and evacuation from scene. (1)

— Rebecca Morelle (@BBCMorelle) March 16, 2017
Many injured - some head injuries, burns, cuts and bruises. Volcanologist said most dangerous incident experience in his 30 year career (3)

— Rebecca Morelle (@BBCMorelle) March 16, 2017
Running down a mountain pelted by rocks, dodging burning boulders and boiling steam - not an experience I ever ever want to repeat (8)

— Rebecca Morelle (@BBCMorelle) March 16, 2017
Mount Etna, on the Italian island of Sicily, entered a new eruptive phase Wednesday after erupting spectacularly at the end of last month.
The lava flow, combined with the thick snow on the mountain side, resulted in a second volcanic blast Thursday morning, local media outlet Catania Today reported.
Thursday's volcanic blast, which caught out the BBC group, caused lava to ooze down the southern side of the crater, according to Italy's National Institute of Geophysics and Volcanology.
Both eruptions were classed as 'Strombolian' activity by volcanologists. This type of eruption is characterized by intermittent bursts of lava which can reach heights of several hundred meters as a result of trapped bubbles of gas escaping through the lava.
Footage from the latest phase shows volcanic ash being flung into the air and glowing lava flows reaching up to 200 meters (656ft) high, according to volcanic experts.
Mount Etna, which is situated between the cities of Messina and Catania, was awarded Unesco World Heritage Status in 2013 due to its near constant state of activity and the scientific and educational value it yields.