'That is racism & is an implied threat': Spicer's controversial comments caught on camera (VIDEO)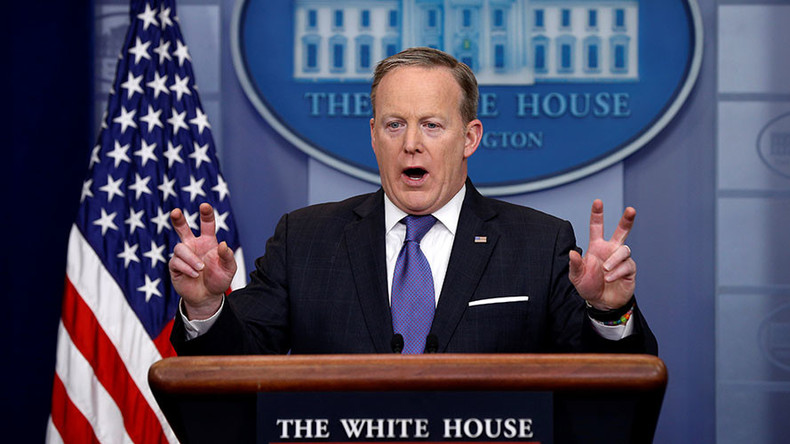 Sean Spicer has been accused of racism after he told an American woman of Indian descent that the US was "such a great country that allows you to be here," following a confrontation in an Apple store over the weekend.
Shree Chauhan shared a video of the incident to Periscope that has been viewed more than 725,000 times, and said she decided to question the press secretary when she saw him shopping, "since he doesn't like the press."
"How does it feel to work for a fascist?" Chauhan asked Spicer, who appeared to be buying an iPhone. "We have a great country," Spicer replied.
"Have you helped with the Russia stuff? Are you a criminal as well?" she continued. "Have you committed treason, just like the president?"
"Such a great country that allows you to be here," Spicer said with a smile.
The exchange has received a lot of attention online, with many accusing the former communications director and chief strategist for the Republican National Committee of racism, levying the charge that Spicer's comments represent the Trump administration's views on immigrants and minorities.
Chauhan has also been criticized for her approach and has been targeted by online trolls. She explained her actions in a blog post, admitting she had been "impolite."
"I realized what an enormous opportunity it was to get answers without the protections normally given to Mr. Spicer," she said. "I was honestly quite nervous and wanted to come up with more cogent questions but did not have time to do so."
Chauhan didn't even hear Spicer's controversial comment during the encounter, and was later told what had been said. "I watched the video over and over again. I had other people watch it. I watched it with the sound off so I could watch Mr. Spicer's lips and make sure words match up with the consonants I thought I heard," she said.
"That is racism and it is an implied threat. Think about the sheer audacity of Mr. Spicer to say that to my face with a smile, knowing that he that he is being recorded on video and the position of power he holds in our government."
Chauhan is a former elementary school teacher who runs the Parents in Partnership startup and also previously worked in the Department of Education policy office.