Kellyanne Conway claims microwaves could have spied on Trump (POLL)
Published time: 13 Mar, 2017 12:46
Edited time: 13 Mar, 2017 18:49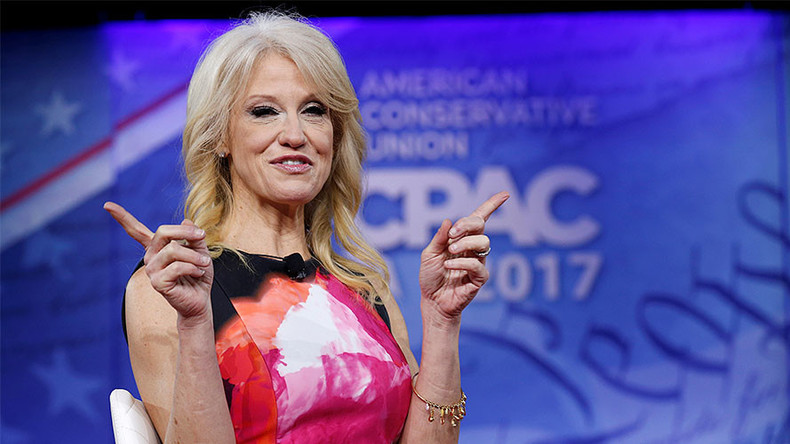 Kellyanne Conway prefers her cocoa cold if her latest claims are anything to go by. Speaking from her home in New Jersey the counselor to the president claimed microwaves can "turn into cameras" and be used for spying.
"What I can say is there are many ways to surveil each other," Conway told Mike Kelly from USA Today when asked about the allegations that Trump Tower was wiretapped. "You can surveil someone through their phones, certainly through their television sets — any number of different ways. Microwaves that turn into cameras," adding: "We know this is a fact of modern life."
Conway's comments received ridicule on social media, with Twitter users accusing Trump's former campaign manager of paranoia.
@ddale8@eschor Finally someone is speaking up about spy microwaves and the secret plot to record Trump - aka Operation Hot Pocket

— Keith Meloy (@kmeloy) March 13, 2017
Her claims may not be as ridiculous as they seem though, with the Internet of Things now possessing a number of kitchen appliances, including microwaves, some of which contain a microphone to assist with voice control. Lest we forget what WikiLeaks taught us last week, if something is on the internet, it's probably watching, or at least listening.
READ MORE: #Vault7: CIA, MI5 turned Samsung TVs into spying devices, even when switched off
When asked about the investigation into Russian hacking of the presidential election, Conway said: "It seems there's some evidence that they tried to hack but again without success in terms of influencing the election."
She described those calling for an investigation into the matter "a bunch of people who still just can't believe that Hillary Clinton lost the election."
Tell us what you think in the poll below.