Anonymous good Samaritan gifts new home to reunite Russian mother with 4 children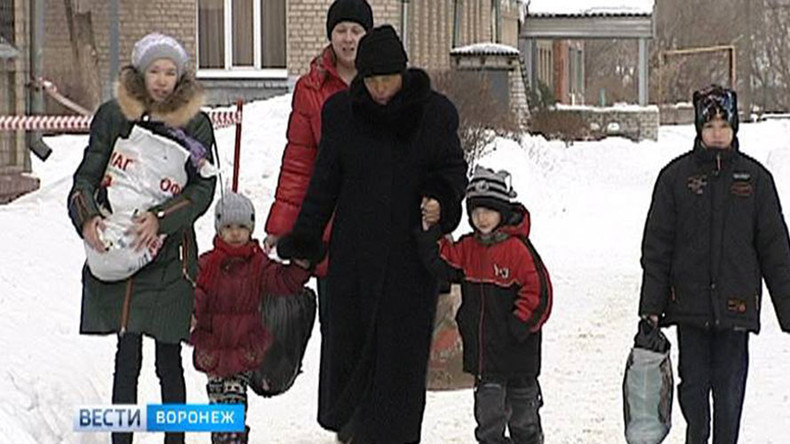 In a fairytale twist, a grim a story of a pregnant mother, disabled father and their four children taken into foster care has changed dramatically for the better, after an anonymous patron bought and furnished an entire house for them to live in together.
Olga Ivanova from a village in the Voronezh Region in southwestern Russia burst into tears as she entered her brand new home. It was a gift from a generous sponsor, who preferred not to identify himself, which came as a total surprise to Olga.
The house is more than just property for Olga. It's a chance to reunite with her four children, Yuliana, 14, Ilya, 10, Matvey, 6 and Anna, 3. Olga and her husband, Aleksandr, who suffered a stroke several years ago, struggled to provide for their family, and foster service took the kids to temporarily live in an orphanage until their parents are able to provide adequate living conditions for the children.
"When we slept there for the first night, I woke up several times to walk around and check if my children are still there. I couldn't believe that they are with me again. I was sitting, looking at my children as they were sleeping and I crying with tears of joy," Olga told a local TV channel.
"I did not want to fall asleep, I was afraid that when I woke up all this all would turn out to be a dream," she added.
When the authorities took away the children two years ago, they told the parents that they would lose custody unless they manage to provide suitable living accommodations. But renovating their old apartment required significant investment, which Aleksandr and Olga simply could not afford, with her being the only breadwinner in the family.
Months before losing custody for good, Olga appealed to charity organizations as the last resort seeking help with repairing the apartment. After her story went viral thanks to the local news, she received tremendous support from the locals, who donated money, clothes, toys and furniture. And then the anonymous donor came with the gift, which far exceeded her expectations.
He also gave Olga a chance to reunite with her parents, whom she has not seen for 20 years. The elderly couple lives in Kazakhstan, and neither they nor Olga could afford the travel cost.
"I'm happy. I have a house, of which I could not have even dreamt. The most important thing is that the children are nearby. Thanks to everyone who helped our family. You have done an absolute miracle, we will never forget your kindness to us," said Olga, who is due to deliver her fifth child in April.